SWISS RAIL STATIONS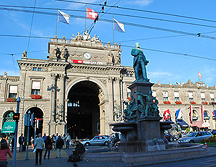 Railway stations in Switzerland are often destinations in themselves as well as centers of transportation. Rail Stations are generally located in the heart of town and cities with many sights, activities and good hotels within a short walk, sometimes next door or across the street. In Zurich for example, walk out one door and you're at the beginning of the famous upscale shopping street the Bahnhostrasse, exit a tunnel at the other end and you'll find the marvelous state history museum. Street trams and bus lines connect from right in front of the train terminal as part of the Swiss convenient transportation system. In Lucerne, step out the door and you're right at the edge of the lake, and the historic steamer boats. Most all the stations in larger cities are full of services, from quick meals to shopping, common meeting places for travelers, both local and foreign tourists.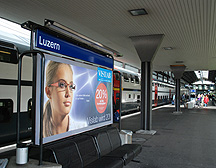 The large city Swiss Rail Station offers comprehensive travel services, from ticket counters to automatic ticket machines, counters for special event tickets, currency exchange and cash transfer, luggage facilities, shops and SBB Swiss Rail Travel Agencies. In German speaking Switzerland the station is Bahnhof, with the main station, the Hauptbahnhof. In French Switzerland, the station is Gare, and in Italian speaking Ticino, Stazione Ferroviaria, though English is also commonly spoken across the country, so train stain works pretty well. The stations are not hard to find with sign posts and local transportaton system generally terminating at the city's train station.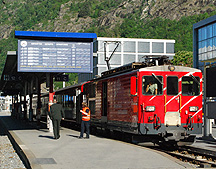 There are three levels of railway station in Switzerland operated by the SBB, the Swiss National Railway. While on some of the rail lines the tracks and trains are owned by separate railway companies, the stations are all operated to a national standard, with common services. Nine of the largest cities have main stations called RailCity, with a number of shopping stores where you can buy a wide variety of goods and serve nearly all your needs for travel, open until late in the evening and on Sundays and public holidays. There are 23 cities with stations referred to as Station Plus, also with shops open for practical hours. The larger stations generally have both Ticket Windows and SBB Travel Centers for reservations and trip planning, automatic Ticketing Machines for immediate travel tickets, Baggage Departments and/or coin Luggage Lockers. Some rail stations have Post Offices. Smaller rail stations across Switzerland have coin luggage lockers and automatic ticketing machines, snack machines or kiosks. Swiss Rail stations are by law wheelchair accessable.
Luggage
One of the great conveniences of touring in Switzerland is the comprehensive baggage handling system. You can store your luggage at any Swiss Rail station, either in the Baggage Department or coin Storage Lockers. Explore a city then pick up your baggage to continue on. Or perhaps even better, you can send your baggage ahead to the railway station at your destination and pick it up there. This is great if traveling one of the scenic routes with a Rail Pass and you want to get off and explore along the way without worrying about what to do with suitcases and bags. There is a charge for this service. With "Fast Luggage" service , ship your bags before 9 am and they will be at your destination by 6 pm at the latest. Send your baggage ahead for a couple of days and just take a backpack for those hiking trail stops. You can even check in your luggage for your international flight home.
Plan Your Tourism Visit
Many of the Railway Stations in Switzerland also have tourism services, either an actual tourist office right in the station, or brochures for sights and activities in racks for your perusal.
Make a Reservation
You can make reservations for panoramic Scenic Trains and many of the Excursion Train in Switzerland at any staffed rail station ticket office. You can also purchase concert and event tickets at Swiss Rail Stations ticket offices.
Exchange and Transfer Money
You can exchange money at any staffed ticket office at a Swiss Railway Station though the currency available may be a bit limited. You can also wire money by Western Union. In larger stations, a counter is designated for this, while at any other staffed stations you may exchange your funds at the ticket office.
RailCity Stations
Zurich
Bern
Basel
Geneva
Lucerne
Lausanne
Winterthur
St Gallen
Zug
Station Plus Cities
Aarau
Biel/Biene
Brig
Chur
Delémont
Fribourg
Geneva Airport
Neuchatel
Olten
Schaffhausen
Sion
Thun
Uster
Visp
Wil
Yverdon-le-Bains
Zurich Enge
Zurich Stadelhofen