ARRIVING IN SWITZERLAND - RAIL CONNECTIONS
By Airplane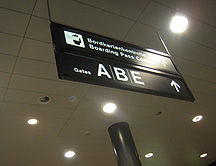 Geneva and Zurich international airports are directly connected to the Swiss Railway network (SBB), so a Swiss Pass or other ticket is valid right from this entry point. The rail station in Zurich is loctated underneath the airport terminal, so simply go down the escalator or elevator after clearing arrival. In Geneva the rail station is just a short walk. Just follow the direction signs. If you don't have a pass or ticket with already you when you arrive, you can purchase tickets or passes at the rail station travel center. Here you can also exchange your money and enquire about timetables, or plan for contingencies on your route.
If Zurich or Geneva is your entry point, train connections depart to the city every few minutes and you can head straight to the appropriate platform. Look for the platform number on display panels and screens located in the airport terminal. If traveling directly to another destination, you won't have to wait long for a train – the InterCity and InterRegio main line trains depart from the airport either every half-hour or hour.
If you arrive via the EuroAirport, joint airport of France, Germany and Switzerland along the Rhine River, you can reach the Basel central train station in 20 minutes by taking bus number 50. The bus is covered in a Transit oror other pass product from the Swiss travel sytem network.
Baggage Delivery
The Swiss rail system has a range of services aimed at freeing the visitor from having to lug suitcases around. When flying into Switzerland, upon checking in to your airline at an international airport, you can name as your destination any major Swiss railway station you are traveling to as your first hotel stop. Your luggage will be delivered to that station to be picked up at the baggage window when you arrive. All carriers can do this. There is a charge for the service, but can be very convenenient if you want to spend your first day exploring, without worrying what to do with your luggage.