ABOUT SWITZERLAND BY RAIL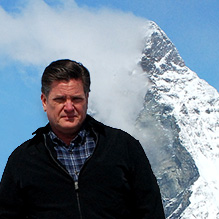 This site is intended to offer an overview and guide to the rail travel splendors of Switzerland, journeys available, tips and tricks, with culture and experiences thrown in, cities and side trips. Order tickets, find rail convenient hotels on your journey and direct you to other helpful resources in your visit to Switzerland. Information you'll find is directed to visitors from North America, but visitors from Britain and the rest of the world should find this site as useful. This site has a marketing advertiser relationship with Rail Europe, in cooperation with Swiss Tourism and the Swiss Transportation System, but other sources of ticketing and information is provided.
Sure you can get around Switzerland by automobile, but Switzerland was built on the idea of public transport. Where getting from one mountain valley to another was a long distance chore, the network of tunnels, boats and rail lines made getting around convenient for locals and now offers the most exciting and relaxing mode of transportation for tourists and visitors.
Whether you're heading for the tops of the Alps, visiting cities, or traveling off the beaten tourist track - in Switzerland, trains, buses and boats are always ready and willing to take you to any dream destination you can think of.