THE GLACIER EXPRESS
Zermatt-Brig-Chur-St Moritz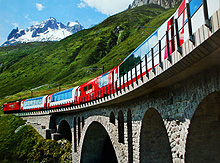 The Glacier Express connects the world-renowned resort of St. Moritz with a destination with a less recognized name but a more famous mountain, the Matterhorn. Taking eight hours to make its journey, up steep mountain massifs and down river valleys past a series of unforgettable views and impressions, the route of the Glacier Express traverses southern Switzerland from Zermatt, through Visp, Brig, Andermatt, Disentis, and Chur to St. Moritz, crossing the high pass divide between the sources of the Rhine and Rhone Rivers, which flow out of the Alps in opposite paths. The Glacier Express can be taken in either direction. Lunch on the Glacier Express is served at your seat as the scenery rolls by the tall panoramic windows by the skilled wait staff, performing the ritual high pour which is as much floor show as meal service.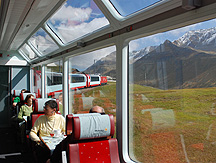 The train itself, branded the Glacier Express, as Switzerland's first and best known scenic route, in a livery of red and white is a showpiece on its own. The air-conditioned panoramic coaches glide smoothly on both narrow and standard gauge tracks through the mountain forests and Alpine pastures. The scenic route passes over a total of the 291 bridges, including the stunningly remarkable engineering feat of the Landvasser viaduct, where the train seemingly flies across a river gorge and dives right into the side of a mountain.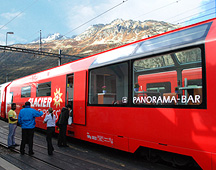 A seat reservation is mandatory on the Glacier Express. If you have a Swiss Pass or Rail Pass, the route requires a supplimental surcharge. (A Eurail Pass is good between St Moritz and Disentis, but with a charge from Disentis to Zermatt). Be sure to reserve lunch on the train. You also have the opportunity of being served snacks and beverages when the mood strikes. (If you don't reserve lunch, take something to eat, because the stops are very short). The nearest major airports to the Glacier Express are Geneva, Zurich and Milan, all about equi-distant, about 4 hours by train. The schedule varies depending on the season, running four trains a day departing between 9-10 am and arriving at the destination around 5-6 pm. The Glacier Express doesn't operate mid-October to Mid-December. Other regular schedule trains follow the same tracks. To get to the glaciers from either end of the route, take the Gornergrat cog rail from Zermatt or the train from St. Moritz to the Diavolezza aerial tram. © sbr.
Glacier Express RailEurope
Panoramic trip from St. Moritz to Zermatt
Swiss Mountain Peaks Pass