GOLDEN PASS LINE
Montreux-Zweisimmen-Interlaken-Lucern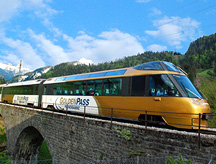 The Golden Pass Line represents the most diverse of the Swiss scenic train routes. From beautiful Montreux on the shores of Lake Geneva in French speaking Switzerland - on the "Swiss Riviera" - through vineyards and green pastures where cows provide the milk for the famed cheese of Gruyere - past resorts like Gstaad - to Interlaken in the shadows of the mountains of the Jungfrau Region. From Interlaken Ost continuing over the Brünig Pass on to Lucerne in central Switzerland, the Golden Pass Line continues its service with the Lucerne-Interlaken Express of the Zentralbahn (in that line's cars with stadard ticketing) on to the shore of the lake region where the country was born. The Golden Pass route - whether its "Golden Pass Classic" Wagons Lit of the days of the Orient Express, or its sleek panoramic viiew coaches in gold, white and blue livery, passes high mountain peaks, and along the shores of six lakes, through lands of two languages.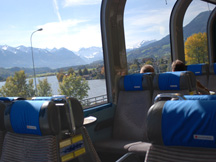 The Golden Pass Line Route can be taken as a pre-booked tour, or as the line runs along regular rail routes through most of its course, can be traveled like any other train. The Golden Pass trains can be taken with a Swiss Pass or other rail pass, without supplement. For special view seating, a seat reservation is recommended, especially for the Golden Pass "Classic" line which runs on the narrow gauge tracks between Montreux and Zweisimmen. The VIP "Grand Vue" dome view seats at the front of the train does require both a reservation and a supplement charge. The trains operate both first class and second class sections. For groups, reservations are mandatory. The full route journey along the Golden Pass Line takes about 5 hours, with train changes at Interlaken and Zweisimmen. Choice Panoramic or Classic?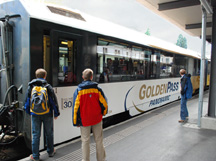 Beginning in 2015, a new service will begin along the Golden Pass Line. In the past, two separate versions of engine and rolling stock where needed because part of the route is on narrow gauge track, but new trains are to begin service with carriages that can traverse the entire route without changing trains, and will provide full service meals like the Glacier Express. But that's a year off, yet. With so many of Switzerland's great sights along the route, the Golden Pass Line is ideal for a Swiss Pass so it can be taken in stages, stopping along the way for some of Switzerland's most impressive excursion mountain trains and cable ways, from Gruyeres to Chateau D'Oex and Gstaad, the Jungfrau Region, the lakes of Thun and Brienz, and Lucerne. © sbr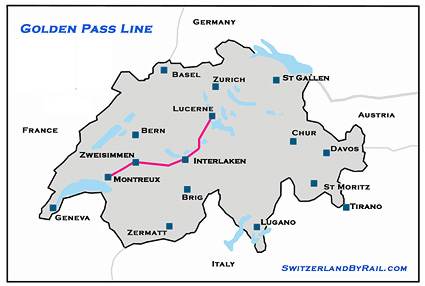 The Golden Pass provides a few different options on sections of its route.
Panorama Coaches and Dining
Between Lucerne & Interlaken East
Panorama coaches in 1st class
Dining car

Between Interlaken East & Zweisimmen
Saloon coaches in 1st class
Railbar service

Between Zweisimmen & Montreux
Panorama coaches in 1st und 2nd class
"Grande vue" VIP front seats (seating supplement)
Railbar service
Excursion Routes from the Golden Pass Stops
From Lucerne
Mt Pilatus – The World's Steepest Cog Mountain Railway
Mt Rigi – Lake Steamer Cruise to the Mountain Train

From Interlaken
Jungfraujoch – Railway to the highest station in Europe and Eiger Windows
Schilthorn – Aerial Tram to the Revolving Restaurant from James Bond

From Montreux
Swiss Chocolate Train – Classic coaches to the Chocolate Factory
Rochers-de-Naye – Cog Rail to Marmot`s Paradise