PALM EXPRESS
Post Bus Service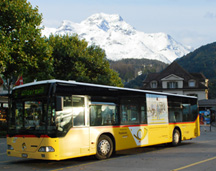 The Palm Express is not a train at all, but a scenic journey on a Swiss PostBus, winding along the high moutain roads between St. Mortiz and Lugano in Ticino, Italian speaking Switzerland, over the Maloja Pass, via Menaggio, cutting through Italy and back into Switzerland. The route takes its name from the palm trees which grow on the warm sunny slope lake shores of the south side of the Alps. The comfortable motor coach journey wends along the shores of the lakes of St. Moritz, Silvaplana and Sils, then over 1,815 meter high Maloja Pass. You only get a real sense of altitude, when the coach follows the 12 gripping hairpin curves as the the road winds down into the beautiful Bergell valley toward Chiavenna.
At Castasegna you are breifly in Italy, where the shore of Lake Como appears out the windows, before you leave the lake and Italy behind at Menaggio, passing along the shore road of Lake Lugano, where the route terminates at southern Switzerland's largest city, Lugano. Enjoy the lakelands of Ticino, or from Lugano, you can travel south into Italy, or take the Wilhelm Tell Express Route over the Gottghard Pass to Lake Lucerne. or into French Speaking Switzelrand.
Seat revervation is mandatory for the Palm Express Route and with a Swiss Pass requres an Alpine Ticket supplement of 15 CHF.