SWISS CHOCOLATE TRAIN - Montreux to Gruyeres
Castle, Cheese and Chocolate Factory Tour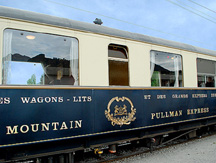 The Swiss Chocolate Train is one of the premiere tourist scenic train journey excursions in Switzerland. Operated as a joint venture between GoldenPass Line Rail Services and Cailler-Nestlé chocolate company. Board your choice of a sleek panorama view coach or a 1915 era Pullman Coach (as once traveled along the romantic Orient Express route through the Alps), depart the Lake Geneva Riviera coast at Montreux with its grand "La Belle Epoch" hotels, and climb beyond the stunning views of the vineyard clad hills above the lake, through high mountain meadows, and on to the medieval town of Gruyères, a village seemingly frozen in time. The package tour includes a visit to the famous Gruyères cheese factory where the prime ingredient of Swiss fondue is made, a visit to the castle of the Savoy dukes of Gruyeres, then a bus ride on to the sweet treats of the Cailler-Nestlé chocolate factory. Gruyeres and the Chocolate train are on the same route as the Golden Pass Line.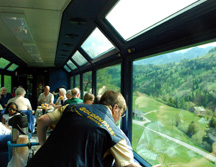 The twisty rail journey up into the mountains takes a full day, leaving the Montreux station at 9:36 am, heading up through the wine grape vineyards of the Vaud region and returning to Montreux about 5:30 pm. There is a snack service on the route and time for lunch in the town of Gruyeres. At the historic Caillier Chocolate Factory with its new million dollar visitor exhibit, you'll learn the history of the making of milk chocolate pioneered by Nestle and Callier, with the end of the tour in the chocolate sampling room, where you can exercise your sweet tooth, before heading to the shop to buy some more Swiss sweets to send home. The bus ride back to the station takes 10 minutes, and then enjoy more scenery on the way back down to Montreux.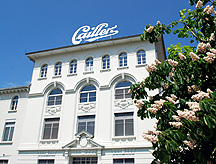 The Chocolate Train is all first class and with a Swiss Rail Pass only a reservation fee is needed. There are a few special view seats located in the engine car with a forward view out the front windows, though the train switches directions half-way through the trip. Without a rail pass you can purchase a ticket for about $35 (39 CHF). Without a Swiss Pass, a visit to Gruyeres Castle is not included, though you can pay the entrance fee to the castle separately. If you have a chance while in Gruyeres, stop for a drink at the Giger Bar, or the "Alien" artist's museum (it's not included in the tour). A Swiss Pass gets you into most all Switzerland museums for free.
The Chocolate Train only runs from May to October, five days during the week in July and August, three days a week in spring and autumn. It does not run in the winter, on weekends or national holidays (when the factory is closed).
Golden Pass Line Tickets
Swiss Pass Unlimited Travel