BRIENZ-ROTHORN RAILWAY
Mountain Steam Train from Lake Brienz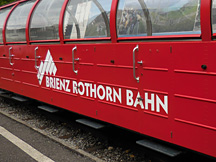 The Brienz-Rothorn mountain rack gear railway climbs over 5,500 feet from the shore of Lake Brienz to the summit station of Rothorn Kulm. The historic scenic train has been driven by steam engines since the 4.7 mile route was first opened in 1891 with three generations of steam engines operating over the track to the high alps meadows of the Bernese mountains. The idea for a railway to the Rothorn came after the completion of the Mt Rigi railway at Lake Lucerne in 1871.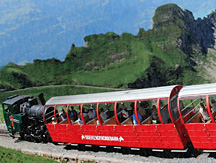 A German engineer named A. Lindner, who had worked on the Gotthard Railway, had the idea of building the world's highest mountain railway (at the time) to the Rothorn (Red Horn). The origin of the name is a bit of a mystery. One legend from the 14th Century that tells of an angry herdsman who boiled a neighbor in a pot of whey, and a soldier who discovered this blew his warning horn so hard he bled. The summit of the Rothorn is the geographic point where the three cantons of Bern, Lucerne and Obwalden meet.
The Rothorn Kulm restaurant and hotel is at the summit of the railway (7395 ft). A short walk from the summit station, the terrace panorama deck of the restaurant offers a Swiss style meal or a drink to take in the spectacular views. From the summit station or hotel is some of the most spectacular hiking in central Switzerland, surrounded by the beauty if high alpine meadows and peaks.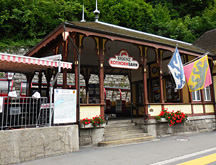 The Rothorn Railway station is located directly across from the Brienz main rail station and the lake boat cruise dock, along the Lucerne-Interlaken Express route. You can take the train to the top at Rothorn or partway to Planalp. Ticket prices range from 37 CHF to 57 CHF for adult one way, or 57 CHF to 88 CHF for adult round trip. Holders of a Swiss Pass or Half Fare Card get a 50% discount. Holders of a local Tell Pass ride free as many times as they want. From June to October trains depart starting at 7:30 am until 5:30 pm, with last train down at 8:40 pm. Early season hours can vary and the route can be closed in bad weather.
Mt Rothorn Bahn Ticketing