LUCERNE-INTERLAKEN EXPRESS
Interlaken Ost-Meiringen-Lucerne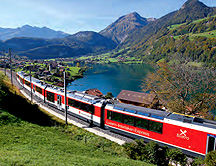 The train route between Lucerne (Luzern) and Interlaken over the Brünig Pass is one of the loveliest scenic rail trips in Switzerland and shorter than some of the other branded scenic trains, a part of the path of the Golden Pass train route. This two-hour ride takes you beside the shores of crystal clear lakes, past waterfalls and over a magnificent mountain pass with high peaks beyond the Alpine meadows of grazing cows. Trains operated by the Zentralbahn travel this route every hour, departing from Interlaken or Lucerne with regular service year round, combined with the Golden Pass passengers. Every three hours, the Luzern-Interlaken Express branded train of special panoramic scenic cars cover the route. These are the same cars as those used on the Glacier Express, though where that trip is 8 hours, this is only 2, and travels between more common destinations. Lucerne is one of the best cities in Switzerland for tourist things to do and see, and Interlaken is the gateway to the Jungfrau Alps region and the Jungfraujoch train.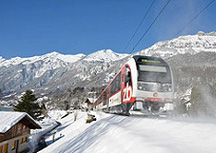 Over the Lucerne-Interlaken Express route you'll experience green pastures, blue lakes and white capped peaks all in one compact trip. And after experiencing some of the most spectacular views the Swiss Alps have to offer from state-of-the-art air-conditioned coaches with Bistro Car or seat side snack and meal service, viewing the scenery through the large panoramic windows, arrive at your destination ready to explore. Along the route, especially for kids, ask the train crew to point out the wood carved animals of the Brünig Safari, located between Meiringen and Giswil. If you have a curiosity, in Meiringen is the Sherlock Holmes Museum and Park Hotel where Arthur Conan Doyle was inspired to write his tale of the Holmes and Moriarty at Reichenbach waterfall. The museum is near the station, but to visit you would need to continue travel on a later train. When checking timetables from Interlaken Ost or Luzern, look for trains via Brünig or Meiringen.
Prices for the Lucerne-Interlaken Express are 55 CHF for First Class. 31 CHF for Second Class (15.50 CHF with a Half Fare Card). This route is included with a Swiss Pass or Eurail Pass which includes Switzerland. For panoramic seats, a reservation is recommended. Tickets can be purchased at any rail station, through SBB or RailEurope. © sbr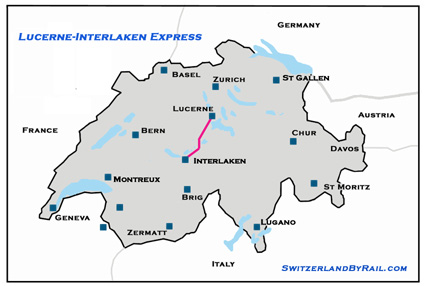 Unlimited Travel in Switzerland - Swiss Pass