ROCHERS DE NAYE
Cog Railway From Montreux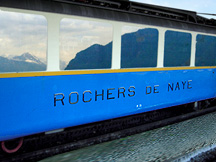 If you don't have time for the Chocolate Train or looking for a different experience, this rack railway train from Montreux to the high village of Rochers de Naye takes 45 minutes to climb above the mountain slope shores of Lake Geneva with views of the Alps. Operated by the Golden Pass railway service line, the train departs once every hour from the Montreux station. It climbs through the meadows and fields to Glion and Caux where elegant hotels dating back to the turn-of-the-last century nestle above the lake.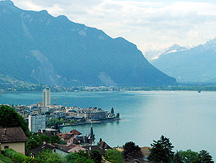 Here you'll find a choice of several hiking trails for taking in the fresh air. Explore the Alpine Garden of La Rambertia with more tha n a thousand varieties of flowers and plants which thrive in the spring and summer. Especially for kids, discover the furry Marmot, the Swiss mountain squirrel relative of the Groundhog, at the Marmot Paradise, an exhibition with 14 species of the cute animal and a game for children to get to know this iconic local creature. If you get hungry the Plein Roc Restaurant offers self-service. In winter the, the special Father Christmas Train carries children from Montreux up to Santa's workshop office nestled in the snows above the lake, with his real live reindeer and activities for kids.
If you want to go to the end of the line, the Rochers de Naye train continues on toward the Jaman Pass and the summit at 6,700 ft of altitude with spectacular scenic views of the Lake Geneva region.
The price for the Rochers De Naye rack train is 66 CHF for adults and 33 CHF for children 6 to 16. Tickets are half-price with a Swiss Pass or Swiss card and children free with a Swiss family Card. The Marmots Paradise and Alpine Garden are free entry.