MT RIGI RAILWAY
Rack Railway From Lake Lucerne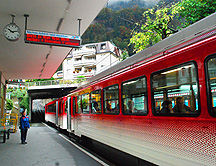 Mt Rigi watches over the eastern shore of Lake Lucerne and was one of the first mountains in the world to have a cog railway. First opened in 1871, the Mt Rigi rack train was originally pulled by steam engines. It was changed to electric, later on, but still today the route operates with nostalgic steam on special runs. Mark Twain wrote of the train in his book "A Tramp Abroad" and the famous American author is still much in presence in the area, from his brief stay, from a statue above the shore of the lake to the bar at the hotel resort at Rigi Kaltbad.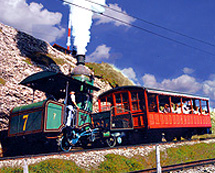 There are actually two railways to the summit of Mt Rigi. The original Mt Rigi cog train from the shore of Lake Lucerne at Vitznau where the lake cruise boats stop, and a more recent rack railway track from Goldau on the main Swiss rail line between Rotkreuz and Schwyz. The historic Mt Rigi Railway called the Queen of the Mountains (Königen der Berge) from Vitznau offers a ride in the classic vintage 19th Century cars from the glory days of Twain in the La Belle Epoch. The ride starts from the turntable at the lake shore taking 30 minutes to climb to the resort of Rigi Kaltbad, then another half-hour journey to reach the Mt Rigi summit. The Mt Rigi Railway is operated by distrive red electric engines, but from June to September, the original steam engine No 7 from 1873 recreates the experience of the golden era, pushing the cars up the steep hillside. If the steam engine isn't running, electric engines push the vintage cars from the Vitznau station turntable to the top.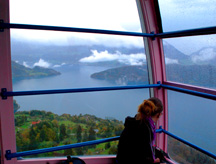 The resorts of Mt Rigi offer day excursions of hiking on 50 miles of hiking trails. Skiing is available during winter at Gratalp in Kigi Kaltbad, with night skiing, tobbogans and sleds at the Rigi Kulm summit. The Mt Rigi aerial cable tram is the direct route from the Rigi Kaltbad to the lake side resort town of Weggis, where Mark Twain stayed on his visit to the area. There are a number of lodging options for Mt Rigi, a variety of hotels along the lake shore in Weggis and Vitznau, or on the mountain, the Rigi Hostellerie h or Edelweiss Hotel at Rigi Kaltbad or the classic Rigi Kulm Hotel at the summit.
Tickets for the Mt Rigi Railway range from 29 CHF to 60 CHF, depending on one way or return and how far up you go. The railway is free with an version of Swiss Pass and a 50% discount with a Eurail or Interrail Pass. If you don't have a pass, the hotels on MT Rigi offer a half-price discount for the railway or the cable car.