SWITZERLAND BY RAIL - REGIONS
Eastern Switzerland & Liechtenstein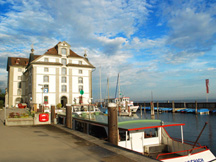 Eastern Switzerland is more technically the north of the country as the southern Engadine is farther to the east. The Eastern Switzerland region stretches bwlow the from the waters of Lake Constance from the Rheinfalls at Schaffhausen, the shore villages of the lake sreved by the Turbo train and Lake Constance Cruise boats, to the Austrian border, across the rolling hills of the Appenzellerland and includes the Alpine landscapes where the story of Hiedi was born, now a holiday region branded as Heidiland and the ancient abbey town of St Gallen with its one of a kind Baroque Library. For tourism, even though its a separate country acroass the Rhine River valley, the little Principality of Liechtenstein with its capital of Vaduz and mountain resort area of Malbun are joined with Eastern Switzerland.
Lake Constance & Appenzellerland
Cycling along the signposted network of cycle trails on the relative flat lands touring the little villages along the lake makes for some of the most casual biking in Switzerland, or you can test yourself on a mountain bike in the Appenzellerland. This region offers some special attractions from families with children, exploring the mystic beauty of Toggenburg, the storybook tale of the Heidi above the resort of Bad Ragaz, the Dwarf Baartli fun stations in Braunwald or the eagles of the raptor show at Malbun.
Hikers may appreciate the mountain guesthouses of the Alpstein Region. Culture lovers will find a stay in St Gallen, ith its Unesco World Heritage Baroque basilica and museum of textiles enticing. Or discover the waterfalls of the mighty Rhine River at Schaffhausen with its wonderful old town below the unique round castle fortress of Munot. In winter, the regions of Eastern Switzerlaand offers some of the best family friendly skiing and boarding, without some of the higher prices of the higher Alps - Flumserberg winter sports resort between Zurich and Chur, the Pizol skiing area of Heidiland, fog-free valley of Säntis and Churfirsten, car-free Braunwald, and Leichtenstein's Malbun, especially attractive for families with its bowl shape where all the trails lead back to home.


Find the best travel and hotel deals in East Switzerland on TripAdvisor
Unlimited Travel in Switzerland - Swiss Pass