SWITZERLAND BY RAIL - REGIONS - JUNGFRAU
INTERLAKEN FALL 2013
What's On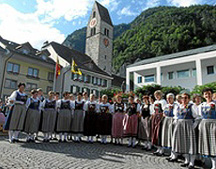 The glowing skies of autumn and the first days of winter in Interlaken are upon us. Gather a new perspective from above the valley on a hike with an expert guide, where the stunning region between the lakes - Lake Thun and Lake Brienz will open before your eyes and the folklore performers of winter festivals prepare for the festive season.

Spectacular New Views - Stockhorn

A newly opened glass bottom viewing platform on the Stockhorn Mountain allows a breathtaking sweeping sweep vantage across Lake Thun, the Aare River valley and the Swiss central lands as far as the Jura Mountains and on clear days all the way to the southern Black Forest. The see-through glass floor lets your gaze drop straight down into the rocky chasm. A tunnel leads from the mountain station Panorama Restaurant through the rock to the platform in the north face of the Stockhorn.

Folklore Groups – A Peek Backstage

In Interlaken, yodelling choirs and national-costume groups, are a familiar part of any fall festivals. Hearing the voices in perfect harmony and watching the dancers' intricate and nimble foot moves the amount of practice and rehearsal needed for these folkloric artists comes to mind. But you needn't wait for a festival to experience the singers, dancers, flag throwers and alphorn players. From September to November, visitors are invited to attend the rehearsals for a backstage look.

Kunstnacht Brienz (Art Night in Brienz ) November 2, 2013

The Brienz Rothorn Railway depot, a short scenic train ride from Interlaken Ost, turns from rail station to art gallery when cultural creativity takes the spotlight in Brienz during the Kunstnacht. The local cinema screens art films and the woodworking and carving workshops are on display enhanced by musical performances of a mix of modern and traditional music.

Touch the Mountains, New Years Day , January 1, 2014

On the day after the traditional New Year's Eve festivities, Interlaken likes to put on yet another starburst display with an open-air music concert, while all along the Interlaken promenade, various folklore groups, bell ringers and other holiday performers drum up an entertaining atmosphere, lit up by spectacular firework display. A great way to start the Swiss New Year.
Compare hotel and travel deals in Swiss Alps on TripAdvisor
Jungfrau Travel Pass
Swiss Pass Unlimited Travel