SWITZERLAND BY RAIL - REGIONS - JUNGFRAU
INTERLAKEN WINTER 2013
What's On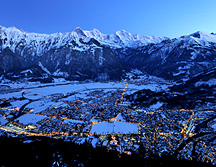 Wintertime in Interlaken, Switzerland original tourist area has more to offer than sports fun on the slopes at the foot of the Eiger, Mönch & Jungfrau mountain. In winter and early spring, while superb sledge runs attract snow-enthusiasts to the high altitudes, the holiday region "between the lakes" has a range of cultural highlights on tap. In the Interlaken Classics, the tradition-steeped concert series in the Interlaken Kursaal, the stars of tomorrow perform the works of the old masters, while at Kleine Scheidegg, rock music greats share the stage with local music legends. And the many folklore clubs practice yodelling and alphorn sounds inside cozy closed doors.

Sledging by Moonlight in Saxeten
Every Wednesday evening: 17:40 – 22:30 from Wilderswil.
After an uphill walk to Alp Nessleren near Wilderswil, guests are rewarded for the effort with a 4-km long sledging session. Culinary well-being is guaranteed with a stop for mulled wine followed by a tasty fondue in traditional rustic surroundings at the end of the sledge run.

Swiss Folklore at First
How do yodelling choirs manage to sing in such beautiful harmony? How do alphorn players create such a powerful sound from a long wooden pipe? Folklore clubs reveal their secrets and provide a look behind the scenes. Guests are given the opportunity to attend a rehearsal and experience old traditions at first hand.

53rd Interlaken Classics Festival
March 24 – April 8, 2012
The festival has grown into a summit meeting for younger and already internationally acclaimed musicians. The commensurate staging of this podium for young artists is based on close cooperation with Europe's best youth orchestras, namely the Gustav Mahler Youth Orchestra (Claudio Abbado, musical director) and the European Union Youth Orchestra (Vladimir Ashkenazy, principal conductor).

Snowpen Air Concert
Kleine Scheidegg, April 6, 2013
The highest-altitude open-air concert in a stunning setting on snow at 2,061 meters above sea level: a cool time with national and international music stars is guaranteed. The thousands of concert visitors can look forward to top acts such as Roxette and OneRepublic, the founding father of Swiss dialect rock Hanery Amman and promising young talent MC Juli.
Snowshoe Treks by the New Moon
Experience an unforgettable night in the idyllic mountain village of Habkern, far from any hustle and bustle. On snowshoes and the light of the new moon, the guests go on a wonderful hike through a landscape blanketed in deep snow. A glass of spicy mulled wine warms body and soul. To crown the evening, a tasty fondue then awaits hungry hikers.

Compare hotel and travel deals in Swiss Alps on TripAdvisor
Jungfrau Travel Pass
Swiss Pass Unlimited Travel