SWITZERLAND BY RAIL - REGIONS

Jungfrau Region - Bernese Oberland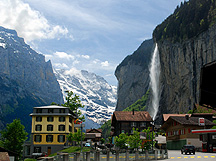 The Jungfrau region in central Switzerland takes its name from the mountain which is its central attraction, part of the triple peak massif of the Eiger, Mönch and Jungfrau. When you think Alps, here is what you imagine and one of the most stunning and varied areas of the country, part of the Bernese Oberland, consisting of two valleys to the south of the two lakes of Brienze and Thun, reached from Interlaken, with mountain cog railways reaching up to the heights of eternal glacier snow of the Jungfrau peaks in one direction and the Schilthorn in the other, separated by the deep valley of a 100 waterfalls above Lauterbrunnen.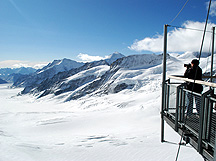 There are five major scenic travel experiences in the Jungfrau region, by rail or in combination of rail and aerial cable car, from Europe's highest rail station with brilliant views of the mountain massifs, with quant Alpine villages and year round resorts nestled in between. The region is served by the Jungfrau railways with scenic journeys and excursions of the Jungfraujoch Top of the World cog train to the world's highest railway station and views of the Aletsch Glacier, the Schilthorn Cableway to the revolving restaurant made famous by its appearance in a James Bond film and arguably the best mountain views, the Schynige Platte railway, Grindelwald-First aerial tram, and Almendhubel funicular.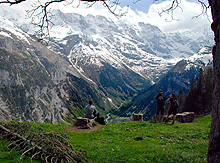 This is the area where alpine skiing was born, when English tourists in the 1800s made Interlaken the tourism capital of Switzerland. One of the first of the parade of international figures who came to Interlaken was Lord George Byron who stayed at the Hotel Interlaken, still there. The Belle Epoch saw the growth of a row of grand hotels along the main street of Interlaken to serve the tourists of the 19th Century and today Interlaken is where you'll hear the most English and varied world accents of travelers from around the globe.
The charming Swiss mountain villages of Murren, clinging to a cliff-side perch which looks precariously into the deep valley, Wengen, wedged in its narrow valley and Grindelwald below the awe inspiring north face of the Eiger mountain, of climbing legends, attract the wondering wanderers of the world in winter and summer. Kleine Scheidegg at the foot of the Jungfraujoch rail climb to the world's highest rail station is a high altitude village for the adventurous, cloaked in snow for much of the season with rail lines linking from Lauterbrunnen and Grindelwald.
There are two railway stations in Interlaken East (Ost) and West. The Interlaken Ost station is the main station serving the SBB, Zentralbahn, Golden Pass and the Jungfrau Railways. and is the connection point to the peaks. All trains terminate at Interlaken Ost as the rail gauges from either direction are different. The Interlaken West station serves the BLS and SBB regional trains.

Compare hotel and travel deals in Bernese Oberland on TripAdvisor
Unlimited Travel in Switzerland - Swiss Pass