BLS LOTSCHBERGER EXPRESS
Swiss Scenic Regional Route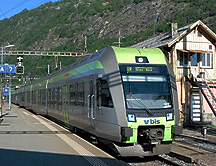 This express scenic route is essentially the regional train which runs from the captial city of Bern, through the Benese Alps to Brig in the French speaking Valais. The BLS Lötschberger Express is a story of tunnels. The fast route to Visp and and points south is through the new Lötschberg Base Tunnel, base meaning its through the bottom of the mountain, where the older tunnel cut through higher up, and therefore shorter. This is the regional train route through the higher tunnel, winding up the more picturesque original route across the mountains, passing through the towns and villages. The BLS Lötschberger in distinctive silver and green livery is a fast and smooth air conditioned modern express train in Switzerland.
Board the Lötschberger either in Bern, or in Spiez, if connecting from Zurich or Interlaken. At the town of Frutigen in the Kander valley, the route passes over wide loops and through a handful of smaller tunnels, climbing along the rugged scenic pathway to Kandersteg, almost 3,000 feet higher in elevation, in a narrow valley of craggy cliffs. Stop in Kandersteg to explore and visit the high Oeschinen Lake. From here the train passes through the tunnel from the Bernese Oberalp region and Goppenstein the Lötschen valley into the Valais on the other side of the ridge. Here you'll see the characteristic sun-weathered timber houses of the mountain slopes as the southern grade of the nearly 100-year-old Lötschberg mountain rail line heads down into the valley of the Rhone River, with the glorious vista spreading out into the distance. The route ends in Brig, the historic connecting town for the old famed Simplon Orient Express. From Brig, the choices are many. Connect to the Gotthard Matterhorn line to Zermatt and the Matterhorn, continue south on the Centovalli Bahn through the Simplon Tunnel into Italy, follow the route of the Glacier Express eastward to Chur and St Moritz, or the main line west through the Valais toward Martigny or Montreux to connect with the Mont Blanc Express, the Chocolate Train or the Golden Pass, or onward to Geneva.
The BLS Lötschberger route does not require any special ticketing or reservation. Any Swiss Pass or Eurail rail pass is good for travel, or purchase a standard ticket in either first class or second class. The journey straight through on this route takes 1 hour 44 minutes.
Unlimited Travel in Switzerland - Swiss Pass