THREE LAKES CRUISES
Neuchatel, Biel, Murten Scenic Lake Tours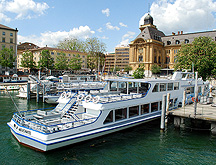 The area around Neuchatel along the edge of the Jura mountains in the west of Switzerland is called the Three Lakes Region for the connected waters of Lake Biel, Lake Neuchâtel, and Lake Murten. Lake Neuchâtel (Neuenburger in German), while much less famous than Lake Geneva to the south, is actually the largest lake entirely within the borders of Switzerland. Charming villages which dot the shores around lake are visited by the regular boat cruise services, operating especially in the sunny summer. Lake Murten (Morat) is the smallest of the lakes but one of the most charming, noted for its shallow depth, with the warmest water for swimming. Lake Biel (or Bienne), the northern most is lined with wine vineyards and features St Peter's Island written of by Jean-Jacque Rousseau and along with Neuchatel plays a major role in the new book about Mary Shelley and Frankenstein.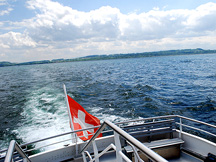 The Three Lakes Navigation has been operating cruise service on the waters at the foot of the Jura hills since 1872. There are no historic steamers on the three lakes, the fleet is modern vessels. The M/S City of Neuchâtel was built in 1972, the M/S Fribourg was launched in 1995, and the newest ship in the fleet, built especially for dining as well as sight touring was built in 2002. The oldest boat still operating is the M/S City of Murten from 1955 The majority of the boats have an on-board restaurant or snack bar. The boats have WiFi on board. Thematic Cruises are offered. Numerous connections enable cruise trips to be combined with hikes and cycling tours along the shoreline. Bicycles can generally be taken on the boats for free (except for BSG routes). The national "Mittelland" Cycle Route 5 leads along the southeastern lakeshore.

Cruise departures are available from all three lakes. Take a one hour lunch cruise from the dock of Neuchatel and back or journey to Yverdon-les-Bains at the western end of the lake of up to two and half hours. The lake waters can sometimes be as smooth as glass and at others a bit choppy when the windsurfers come out, skipping the waves. The boat cruise through the Broye Canal from Neuchâtel to village of Murten takes just under 2 hours, while an all-day, three lakes tour through the Broye canal then through the Zihl canal to Lake Biel takes 4 hours.
Find the best travel and hotel deals in Neuchatel on TripAdvisor
Swiss Pass Unlimited Travel