SWITZERLAND BY RAIL - LAKE GENEVA REGION
WHAT'S ON - WINTER 2013-2014
Holiday Markets Montreux-Lausanne
November 22 to December 24 2013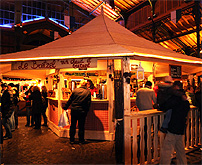 Switzerland's most famous Christmas Market on Lake Geneva, Montreux Noel extends from the lakeside quays and up into the mountains above. More than 150 crafts vendors set up stands in colorfully decorated mini-chalets in Montreux up to Santa's Village shop in Rochers de Naye, high above the lake
A 20 minute train ride away the Lausanne Christmas Market offers the traditional holiday fare while the second annual Festival Lausanne Lumières lights up the streets of the lakeside city of Lausanne and artist created illumination installations light the city center, adorning bridges, streets and building facades.
Château d'Oex Hot-Air Balloon Festival
January 25 to February 2, 2014

The mountain village of Château-d'Oex along the Golden Pass Route hosts the 36th annual International Festival de Ballons. Château-d'Oex has become the world capital of hot air ballooning due to its extraordinary micro-climate. It was from this little village that Bertrand Piccard and Brian Jones lifted off in their around the world Breitling Orbiter balloon in 1999. Now, once a year over 80 balloons from 20 countries rise into the skies over the alps at the Chateau D'Oex Balloon Festival.
Openings and Re-Openings
Vevey Watchmaking Workshop
In Vevey, swiss watchmakers Lionel Meylan and his son, Julien, open their precision workshop to the public. Visitors can sit at a workbench and learn the fine art of assembling a Swiss watch.
No previous experience is necessary, just patience and steady hands. The workshops by appointment only last for 3 hours and cost $325.
Morges and Lausanne Hotels
In Morges, which hosts the annual Tulip Festival every spring, the four star Hostellerie Le Petit Manoir hotel opens its 14 new rooms, built in the French-style this elegant 18th century manor house. The hotel boasts a wellness area and Le Restaurant du Petit Manoir, supervised by Chef Julien Retler, who won the Gault & Millau discovery award in 2012 and was awarded a star by the Michelin Guide in 2013.

The legendary lakeside 5-star Beau Rivage Palace hotel in the Ouchy district of Lausanne, reopens after a major renovation by Interior designer Pierre-Yves Rochon, transforming 37 of the guestrooms. Rochon is noted for his redesigns of London's Savoy and the Four Seasons Georges V in Paris. By the time work concludes in May of 2014, 61 more rooms will have been completed. Visit the hotel where Byron wrote the Prisoner of Chillon. Origin of Author Mary Shelley's Frankenstein
Olympic Museum
The Olympic Museum in Lausanne which has been closed for 2 years for major renovation is expected to reopen this winter. The museum features an extensive interactive collection documenting the history of the Olympic Games. A 14 foot tall Omega countdown clock is located in the nearby Place de la Navigation, ticking down the time left until the Sochi Winter Olympics in Russia in February and the Rio de Janeiro Summer Olympics in 2016.
Swiss Pass Unlimited Travel