SWITZERLAND BY RAIL - REGIONS - LAKE GENEVA

FOOD MUSEUM - ALIMENTARIUM - OF VEVEY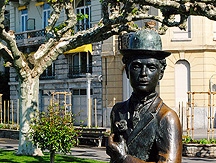 The Alimentarium Food Museum in Vevey is located in the original 19th Century mansion headquarters of Nestlé on the shoreline promenade of Lake Geneva, just at the giant fork sticking mysteriously from the shimmering lake waters, and watched over by the statue of Vevey's most famous former resident, Charlie Chaplain. First opened in 1985, the exhibits of the Aliamentarium follow the whole process of food, from Cooking, Eating, Purchasing and Digestion, presented in an interactive and stylistic format.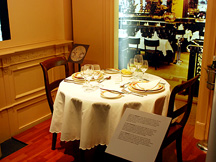 The Cooking room is an actual working kitchen where chefs called "animators" (but real people) demonstrate cooking techniques, along with static exhibits on food preparation and processing, and historic utensils from stoves to microwaves. The Eating section presents exhibits on table manners, food in the media, dining in restaurants and allows a chance to play with the food pyramid of diet balance. Upstairs, the Purchasing section is arranged like a modern food market, with bins representing agriculture, marketing, food product manufacturing and distribution along with interactive display stations in the form of shopping carts. Follow the trail of food from the field to factory, to store shelves. The Digesting room explores metabolism and the effects of food on the body, with a 3D movie of the journey through the body's digestive process from mouth to molecules.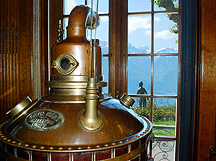 The current Nestlé Company headquarters is two miles away on the edge of Vevey where the Wine Train heads up into the Lavaux vineyards, but the original oval wood paneled office where the Nestle Condensed Milk Company was run by August Roussy, the grandson of an investor who bought the company and the Nestlé's name in 1875, is kept as it was in 1921, with one of the original brass chocolate making pressure cookers, with a display of logos and historic marketing campaigns on the walls.
The Food Museum of Vevey is open Tuesday to Sunday 10am to 6pm, closed Mondays. Admission is 10 CHF for Adults, 8 CHF for Students and Seniors, free for children under 16, and free with a Swiss Pass or Museum Pass. The museum café serves a varied daily menu with items cooked up by the chefs in the museum kitchen. The historic Nestle office at the food museum is entirely separate from the Nestle-Callier factory tour in Broc visited on the Chocolate Train, but closely related in the story of the invention of Swiss Milk Chocolate.
Compare hotel and travel deals in Lake Geneva on TripAdvisor
Swiss Pass Unlimited Travel