SWITZERLAND BY RAIL - REGIONS - LAKE GENEVA

LES DIABLERETS & GLACIER 3000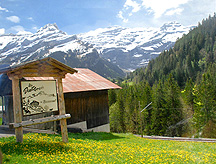 Le Diablerets is a mountain village set in a valley in the heart of the Chablais Alps, at the foot of a mountain range of the Les Diablerets peak from which the town takes its name. The village located in the Lake Geneva region (Vaud) of Switzerland is best known as a ski resort reached by winding road or scenic cog train from Aigle from the south or from Gstaad to the north. The original town name was "Le Plan de Isle" comprised of several little hamlets, but to make postal delivery easier took the name of the nearby mountain and a tourist hotel in the village. Skiing as a sport first came to the area in the middle of the 19th Century when Les Diablerets offered the first ski lift in French speaking Switzerland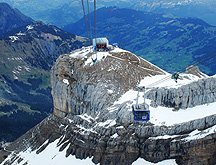 As a resort, Les Diablerets is best known for its access to the Les Diablerets and Tsanfleuron Glaciers, and the Glacier 3000 aerial cableway. In winter, the mountains offer a broad range of ski and snow activities with a emphasis on family friendly activities. cross-country skiing, snowshoes or hikes, day or night sledge runs, ice-skating or curling, swimming-pool and other fun activities. In summer, the scenic valley offers sunny green slopes, jutting peaks and crisp air for hiking and mountain bikes. The Glacier 3000 cable to the summit, perpetual ice and stunning vistas offers year round activities, from, husky dog sled rides to the unique Snow Bus on the glacier, and Alpine Coaster, the world's highest bobsleigh track.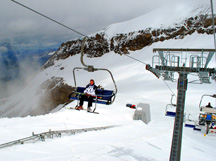 For winter skiers Les Diablerets offers access to three ski areas The Glacier 3000 installation includes 10 ski areas and 30 kilometers of runs at altitudes ranging from 1350 meters to 3000 meters, including the expert challenging 7 kilometer long Olden run. Le Meilleret offers a variety of both red and blue ski slopes for the intermediate skier and connects to the Villars ski resort area. Isenau is an ideal area for beginnering skiers with mostly blue (easy) slopes, and weher you'll find the Swiss Ski and Snowboard School at "La Crua". Glacier 3000 is reached by bus from the village to the Col du Pillon tramway station. The region now offers the Gstaad Vaudoises Ski Super Pass and Kids under 9 years old free promotions.

By train Les Diablerets is reached via the Geneva-Brig mainline to Aigle, then TPC cog train or Post Bus, or the Golden Pass Route to Gstaad, then bus to Les Diablerets. In winter the bus operates from both Gstaad and Les Diblerets to the Glacier 3000 Cable tram.
Compare hotel and travel deals in Lake Geneva on TripAdvisor
Unlimited Travel in Switzerland with Swiss Pass