GLACIER 3000
Les Diablerets - Gstaad - Saanenland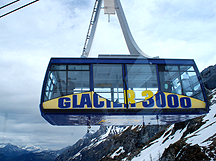 Glacier 3000 is the name of the aerial tram to the glacier of Les Diablerets in the central Swiss Alps between Lake Geneva and the Bernese Oberland. The name comes from the altitude (3000 meters or just under 10,000 feet). The panoramic cable car rises from Col du Pillon station or the Reusch Station, located between the resort towns of Les Diablerets and Gstaad, with two spans carrying to the top station of Scex Rouge. At the top of the mountain, views reach to the alpine peaks, from Jungfrau looking east, to the Matterhorn and Mont Blanc to the south, though mostly in the distance and weather dependent.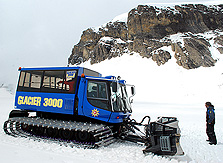 Glacier 3000 is a prime winter ski area from its neighboring resort towns. The glacier snow is perpetual, not high enough for year round skiing. The ski season is from November to May, consisting of 30 kilometers of ski runs and a Snow Park in the early and late season. Unlike the other glacier sites in Switzerland, there is no ice cave, but activities at Glacier 3000 include: the Viewpoint, a stair climb to the observation port at 3,000 meters, outdoors above the Scex Rouge Station; the Alpine Coaster is a fixed rail bod sled ride swooping down from the cable station to the glacial snow (closed for repairs in 2012); the Ice Express is a chairlift from the cable station to the glacier; perhaps unique to Glacier 3000, the Snow Bus, a specially designed snow plow with an enclosed passenger compartment, making a trip of about 30 minutes out onto the glacier. In summer, hiking trails lead through the deep valley along the glacier edge, and for the more adventurous, a fixed rope trail for rock climbers leads across and up the mountain cliffs. This is for the casual climber (more rails and ladders than ropes), with self or guided climbs. The Dog Sled ride operates in summer as well.
The Restaurant Botta at the Scex Rouge station was designed by noted Swiss Architect Mario Botta, with both sit down and self-service. The restaurant features traditional Swiss Raclette, or a full three course menu Botta Brunch.
Glacier 3000 and the Col du Pillon station are reached by train from Thun or Interlaken in the north, or Montreux on Lake Geneva via the Golden Pass Line or from Aigle in the south via the TPC Cog Train. A Post Bus is necessary from Les Diablerets or Gstaad, running every hour. The cost for the Glacier 3000 cable from Col Du Pillon or Reusch Station is 77 Swiss francs for adults, 54 for kids 9 to 15 or half price, 39 and 27 Swiss francs with a Swiss Pass or Swiss Card. Children under 9 years are free. A One Day Ski Pass is 61 Swiss francs.
Glacier 3000 Ticketing
Swiss Pass Unlimited Travel