SCHILTHORN – PIZ GLORIA
Alps Views from Famous Revolving Restaurant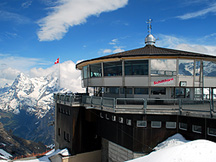 Incredible Alps views have drawn visitors to the top of the Schilthorn mountain in central Switzerland since the cable tram to its revolving restaurant first opened in 1967, made famous almost immediately from its appearance as Blofeld's mountain peak lair in the James Bond movie "On Her Majesty's Secret Service" with George Lazenby as Bond escaping on the aerial tram cables and the site being blown up in the final sequence. Of course, the blowing up part was movie magic, with a miniature and well placed pyrotechnics. The Piz Gloria mountain top station still survives as an intended tourist excursion destination, features the restaurant with the revolving floor for passing snow-capped vistas while enjoying a mean in one of the most dramatic dining experiences in the world.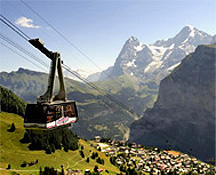 At 9,748 ft altitude in the Jungfrau region of the Berner Oberland of central Switzerland, the final aerial cable to Schilthorn from the station at Stechelberg, is reached by rail in about an from Interlaken or Grindelwald via Lauterbrunnen to Gimmelwald. The aerial cable trip requires four separate cables. It is also possible to go from Lauterbrunnen via the Murrenbahn cable to Mürren, the highest ski resort area in central Switzerland. Mürren from where the Shcilthorn cable departs is a beautiful little village clinging to the high shelf above the valley. The Schilthornbahn ticket costs CHF 96 for adults and CHF 46 for children for the full distance. About CHF 60 from Mürren. With a Swiss Pass the fare is half-price. To save a bit more money, a discount for early morning departures until 8:55 or late day trips departing Stechelberg after 3:25 is offered. Schilthorn - Piz Gloria is open year round. Tickets can be purchased at any rail station. At the Piz Gloria station in the surround vision theatre called the Touristorama, watch a movie telling the story of the Bond film and the struggle of building the world's first revolving restaurant on a mountain peak. In winter, the Murren-Schiltorn ski area is the highest in the Bernese Oberland offering 54 kilometers of ski runs with dramatic views of the Eiger Monch and Jungfrau mountain range. As with all mountaintop excursions, the weather condition can make a big difference in your experience. For other activities nearby, there is a Funpark as well as summer and winter.
If visiting one mountain peak isn't enough to fill the thrill quotient, the Jungfrau Railway goes up the opposite side of the valley, to the Jungfraujoch the Alps highest rail station with views out the famous Eiger windows. Tickets for the Jungraujoch are separate from Schilthorn and to do both would best take two days to experience. The Jungfrau railway, connects from Lauterbrunnen to Klein Scheidegg.
Scilthorn Piz Gloria Booking
Swiss Pass Unlimited Travel