MT TITLIS ROTAIR CABLE CAR
Rotating Cable Engelberg To Ice Flyer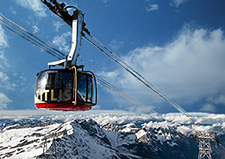 Mt Titlis is known for its rotating cable car. The first cable span carried visitors from the town of Engelberg to the summit of Mt Titlis in 1927 and the aerial ride was converted into one of the first rotating cable cars to appear in the Swiss Alps. The round car with panoramic windows and a rotating floor, offering a turning view now rises in a number of spots around the world but Mt Titius is the father of the "rotair". The Rotair gondola car has been updated since the original. The rotating car is only on the last of three separate cables from Engelberg taking 40 minutes to make the full trip with the last throw over the jagged crags of deep permanent glacier ice a five minute ride making a 360 degree turn.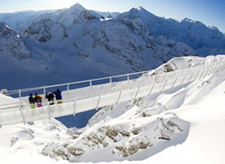 Upon reaching the top of Mt Titlis, the exit from the cable leads through an underground tunnel to the viewing platform at the south wall window while a suspension bridge stretches from here to the Ice Flyer glacier chair lift station. Take thrilling steps along the Titlis Cliff Walk, only a meter wide and and100 meters long with breathtaking views into the abyss below are breathtaking! The Ice Flyer is a special chair lift for views gliding over the crevasse crags of the glacial ice. In the summer, the Ice Flyer takes visitors to the year round Titlis Glacier Park, allows all season activities, with free use of the snow tubes, ice balancer scooters and single passenger snow bobs. The sun terrace on top of the Visitor Center allows stunning views. The Glacier Cave three levels down makes for a decent into the ice caverns in the frozen heart of a glacier and is free. The Panorama Restaurant offers refreshment with panoramic views of the glacier at 3,020 meters above sea-level, or for more casual style or satisfying a sweet-tooth, try the sandwich bar, ice cream buffet and chocolate shop.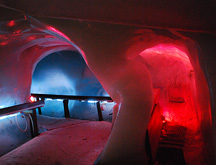 During the sunny warmer months, the summit of Mt Titlis is the highest point in central Switzerland at 10,000 feet. The snow still clings in glacial ice while the green mountain slopes and valleys below are traced by hiking and biking trails. In summer, rent a mountain bike, or special local "Trotti Bike", with fat tires and no pedals - meant to race down the dry ski trails for a wild thrill. During the snows of winter, the area around Engelberg area the largest ski region in central Switzerland, which combines Mt Titlis and Brunni, offering with 25 ski lifts and the longest downhill ski run in the Alps of 26 km from the top of Mt Titlis to the valley floor. Engelberg also features the world's longest natural ski jump. World Cup Championship competitions are held in Engelberg every December, the weekend before Christmas.

Engelberg is 1 hour by train from Lucerne, about 1 1/12 hours from Interlaken, 2 ½ hours from Zurich and about 2 hours from Lugano, if coming from the south. As a day excursion from Lucerne the full journey by train from Lucerne and cable car ride to the top of Mt Titlis, takes about 5 hours, so allow a full day. For a more relaxed trip, stay over in Engelberg. The tourist office is located in the Engelberg rail station for lodging an activity options. Emgelberg is just off the Golden Pass Line Route between Interlaken and Lucerne.

The cost for the Mt Titlis Rotair aerial cable is 89 CHF for an adult round trip, half-price for one way (ski or bike down). The Ice Flyer chair lift and the Glacier Cave are included while the Glacier Park is an extra charge The cost is half-price with a Swiss Pass or a Eurail Pass including Switzerland. Children under 6 are free and under 16 free when traveling with a parent with a Swiss Pass or Swiss Family Card. The first cable car up from Engelberg is 8:30 am the last car down from the Mt. Titlis station is 4:50 pm. The cable house on the Engelberg valley floor is a quarter mile from the train station. Take the shuttle bus, or the walk is 10 minutes. If taking the train from Lucerne, the train splits at Obermatt with only the cog train section going up the steep grade to Engelberg, so make sure you get on the right cars.

Mt Titlis Tickets