SWITZERLAND BY RAIL - REGIONS - LAKE GENEVA

CHILLON CASTLE - MONTREUX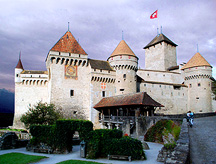 It is Switzerland's most iconic, imaged and visited castle. The Castle Chillon at the eastern edge of Lake Geneva, just 5 minutes by train from Montreux, standing on a rocky little island outcrop at the lake shore, offers such a vision of a romantic idyll in the mists of the lake with the Alps peaks beyond, it has captured the imagination of poets like Byron. The first written record of a castle at Chillon appears in the 12th century. The castle's heyday as a medieval fort and residence castle guarding road along lake shore was under the Burgundian Counts of Savoy who controlled a large portion of southwest Switzerland along Lake Geneva, or the Vaud. The Savoy's later lost control to the Bernes in the 16th Century and they in turn lost their grip in the Vaudois Revolution in 1798.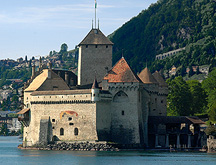 With its beautiful 15th Century turrets, the Chillon Castle is a walled fortress from the land side, with the lake forming a natural moat crossed by a dramatic wooden bridge to the gate. One of the dramtic views is by the Lake Geneva cruise boats passing from Montreux to Villeneuva. Chateau Chillon became mostly a storage house for weapons and a prison, but the beautiful image of the castle on the lake waters surrounded by magnificent snow covered mountains, inspired the likes of Jean-Jacques Rousseau to reimagine the romantic medieval legend of Abelard and Heloise, and Lord Byron to tell the story of the monk François de Bonivard, held captive in its stony donjon, in the epic poem "Prisoner of Chillon". The popularity of the Chillon castle for tourists is partly the reason nearby Montreux became a stop on the Grand European Tour of the 19th Century's La Belle Age.

See Favorite Switzerland Castles.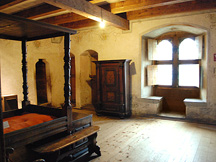 Getting to Chillon Castle is one of the easiest in Switzeland. It has its own railway stop on the main line from Geneva to Brig, and the Lake Geneva cruise boats stop at the castle dock. The main highway from the Vaud region to the Valais region of the southern Alps passes right beside the castle, on a overpass with can spoil the pristine view a bit. The train station requires a little walk while the rgular municipal bus (line No 1) from Montreux stops directly at the roadside stop across a pedestrian bridge. A Swiss Pass is valid for travel on the train line, the CGN Lake Geneva cruise boats and the city bus, making it easy to take the boat in one direction and the train or bus in the other. The Chateau de Chillon is open from 9am to 6pm and sells its own exclusive wine, Clos de Chillon, to support its upkeep. Group tasting tours can be arranged. A special guide book for kids with the castle's dragon mascot Drako is offered in English for family visits.
Compare hotel and travel deals in Lake Geneva on TripAdvisor
Swiss Pass Unlimited Travel