SWITZERLAND BY RAIL - GENEVA
PATEK PHILIPPE MUSEUM
Swiss Watchmaking History In Geneva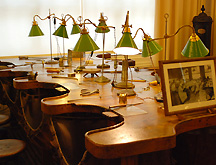 The Patek Philppe Museum in Geneva features a collection of historic watches and watchmaking artifacts from the company's long history displayed over four floors of a former jewelry manufacturer. One of the best known Swiss watch companies Patek Philippe is not the name of one person. Count Antoine Norbert de Patek, originally from Poland, fleeing the Russian occupation, settled in Geneva in 1831 where he opened a shop to sell fine watches. He was joined by another Polish immigrant watch craftsman, Francois Czapek in 1839 to begin a watchmaking business Patek Czapek & Co, with a reputation for creating superior time pieces. Then in 1844, while attending the Paris Industrial Fair, Antoine Patek saw a demonstration of a revolutionary new stem winding system for watches, no longer requiring a key, designed by Adrien Philippe and convinced him to join the company. Czapek left the firm after a year and the name became Patek Phillipe.
The world class reputation of Patek Philipe & Co. was secured when Queen Victoria of discovered their keyless winding watches at the London Crystal Palace exhibition of 1851. The Swiss company's innovative time pieces became the all the rage among the aristocracy as well as scientists and even world explorers. Swiss watchmaking as an industry had begun in the 1500s by French Protestant Huguenots escaping persecution and settling in the Jura mountains, but the name Patek Philippe and their innovation gave the Swiss Watch its international reputation and became synonymous with the world renown of precision and elegance, a reputation which has lasted for 180 years.
The museum collection features watches worn by the likes of Queen Victoria, composer Richard Wagner, author Rudyard Kipling and scientist Albert Einstein. The exhibition begins on the ground floor with a collection of antique watch-making tools and a replica watch craftsmen's workshop. By elevator to the top floor, the library and archive of technical notebooks show the original design sketches of Adrien Philippe and a collection of 700 books and papers on the subject of time. On the second floor, explore the historical antique collection of magnificent time pieces from the 16th to the 19th centuries. On the first floor is the collection of Patek Philippe designs from 1839 to the present day.
The Patek Philippe Museum is open to individual visitors and groups from Tuesday to Friday between 2 and 5 PM, and Saturday 10 to 5. Adult admission is 10 chf, students 18-25 and seniors 7 chf and children under 18 free. Saturdays at 2:30 a guided tour is offered for a journey through watch-making history and the collection in English. Other languages are available by appointment.
Compare hotel and travel deals in Lake Geneva on TripAdvisor

Unlimited Travel in Switzerland with Swiss Pass