LUCERNE WHAT'S ON - SUMMER-FALL 2014
Top Festivals and Events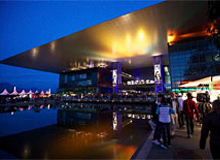 The city of Lucerne and the surrounding beauty of the Lake Lucerne Region with the its idyllic riviera lakes shore villages of Weggis and Vitznau below Mt. Rigi offer a variety of holiday experiences in the glorious summer months. Avant-garde at the KKL Luzern Arts Center, fascinating museums from the Glacier Garden to Picasso and Transport, theatres and festivals make Lucerne one of Switzerland's most active culture cities of both the traditional and the modern. Enjoy memorable excursions on the historic paddle-steamers of the lake, soak up the glory of nature on the close-by mountains and relax and unwind in some of the world's leading wellness hotels. A number of returning festivals and events fill the summer and autumn with music, sports and entertainment. Lucerne likes to refer it itself as the Festival City, offering events throughout the year, with blues, jazz, rock, comics and its colorful Carnival.
Lucerne Fest - June 28, 2014
The Lucerne Fest (Old Town Festival), the city's most famous traditional celebration of cultural heritage when the masked characters come out to play takes place in the heart of Lucerne at the end of June. lucernefestival.ch
Rowing World Cup Lucerne - July 11-13, 2014
Be part of the exciting Rowing World Cup on the Rotsee in Lucerne when world class rowers take to the water. ruderwelt-luzern.ch
Blue Balls Festival - July 18– 26, 2014
The international Lucerne Blue Balls Festival presents a cornucopia of music styles on the shores of Lake Lucerne. blueballs.ch
Lucerne Festival in Summer - August 15 to September 14, 2014
The Lucerne Music Festival is one of the leading international organisers of classical and contemporary music festivals. lucernefestival.ch
World Band Festival - September 20 to September 28, 2014
Apart from classical music, jazz and pop, Lucerne is also a venue for top-notch performances by wind ensembles. worldbandfestival.ch
Swiss City Marathon Lucerne - October 26, 2014
At the SwissCityMarathon – Lucerne each and every single participant is a hometown hero! swisscitymarathon.ch
Lucerne Festival at the Piano - November 22 – 30, 2014
Piano music for everyone lucernefestival.ch
Compare hotel and travel deals in Lucerne on TripAdvisor
Swiss Pass Unlimited Travel