Swiss Trains - First Class or Second Class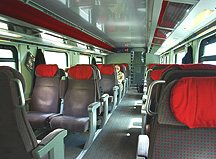 What is the comparison between traveling First Class or Second Class in Switzerland? Price – Seating - Convenience ? If you're purchasing a train ticket while in the country, you're most likely to be purchasing second class. In fact, at a ticket window, if you ask for a ticket to somewhere from a ticketing agent, you will get a second class, unless you specifically ask for first. If getting a variety of Swiss Rail Pass, before traveling to Switzerland, you have a choice of First or Second Class. So, what's the difference? First the price difference is about 30% less for 2nd Class. The seats are a little different, a little more comfort and style in first, though you probably won't really notice it much, except on a long trip. All Swiss trains whatever class you're in are clean and comfortable.

The seats on First and Second can vary with the age of the cars. On newer and longer distance trains First Class will have wireless and electrical plugs for computers in what is called Business Zone. On special scenic trains, the first class cars will have better service, and some preferential seating. On the Golden Pass Panoramic train the front cars are first class and the special forward view seat require a supplement. On cog trains the forward facing cars are often first class.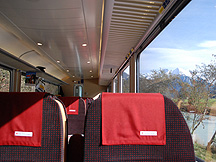 On regular Swiss trains, the real difference is the competition for seats. Since most Swiss local passengers travel in 2nd class, the cars can get quite crowded at times on certain routes. In first class you may find yourself nearly alone, with plenty of room for luggage. First Class is usually occupied by business travelers and foreigners with rail passes. On some local trains the first class may only be a segment of one car, separated by a partition doorway. On high traffic trains between some cities there may be a number of first class cars, empty at mid-day, but filling with business types at rush hour. I have to admit that when traveling with a first class Swiss Pass, especially with luggage, it is a pleasurable convenience to board and easily find a spot with a good view, and rejoice when the train pulls into a station and the platform is lined with waiting passengers, all heading for the second class cars.

Some trains on certain high travel routes have family coach or family zone sections for traveling with kids. And on many high travel route trains, there are Quiet Zone seats in first for taking that nap. If traveling with a 2nd Class Pass or Ticket is possible to upgrade to first for a specific route or a day, purchased either online or at the station ticket center.

On station platforms the car position for boarding will be designated by area A,B,C and D. For Regional Express and other main line trains the first class cars are usually the B section. An announcement will usually be made regarding boarding areas for first and second class. Which class you choose really depends on whether you want to stretch out in your own world for a little better travel experience or focus on saving money.
Unlimited Travel in Switzerland - Swiss Pass
Swiss Flexipass

Swiss Saverpass