JUNGFRAU REGION RAILWAYS
Wengeralpbahn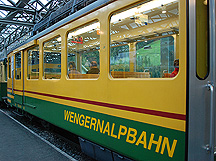 First opened in 1893 the Wengernalpbahn is a cog wheel railway, in green and yellow colors. The route connects Lauterbrunnen to to the carless village of Wengen and travels via Wengen and Wengernalp up to Kleine Scheidegg at 6762 feet, where it connects with the Jungfrau Railway which travels onward to the Jungfraujoch Top of Europe Station. The Wengernalp railway is the longest cog wheel rack and pinion railway in Switzerland, running legacy classic trains and newer stock. It travels in two routes connecting Lauterbrunnen, Wengen and Grindelwald over the Kleine Scheidegg.


Between Lauterbrunnen and Wengen, trains run a regular schedule all year, departing every half hour until early evening, then hourly. In the mornings and afternoons they continue to Kleine Scheidegg, every half hour except from late October to mid-December when the service is hourly. Journey time is 40 to 50 minutes. Between Grindelwald and Kleine Scheidegg trains run a similar schedule with time for the trip a half hour up and 40 minutes down. In winter, from December to March, extra trains operate some evenings between Grindelwald and Alpiglen to the night lit Eiger Run sledding course.

At the Lauterbrunnen station the Wengeralpbahn connects with the Berner Oberland Bahn from Interlaken Ost and with the Bergbahn Lauterbrunnen-Mürren aerial tram and to Mürren. Ticket price to Klein Scheidegg from Lauterbrunnen is 34.50 CHF one way and 53.80 CHF round trip. The portion of the route to Wengen or Grindelwald from Lauterbrunnen is free with a Swiss Pass. To Kleine Scheidegg and Jungfraujoch requires a separate ticket with a 25% reduction. A Eurail Pass gets a 25% reduction for the full route.

Schiltorn James Bond
Jungfrau Travel Pass
Swiss Pass Unlimited Travel