INTERKLAKEN REGION RAILWAYS
Giessbach Funicular Railway - Oldest Cable Railway In Europe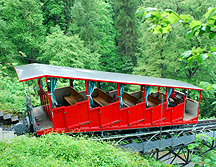 Not the world's first, but the oldest of its kind in Europe, the Giessbach Funicular, which was build to carry visitors from the shore of Lake Brienz to the Grand Hotel of Geissbach, located next to a stunning waterfall was revolutionary for its time. It was the first railway in the world to have a bypass loop in the middleso two counterweighted cars could pass each other, a design repeated in the vast majority of funiculars to follow. The little railway of two red wooden cars was built in 1879, designed by the Aarau Machine Works, by Engineers Roman Abt and director Niklaus Riggenbach.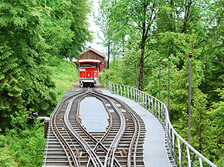 The other unique engineering design feature of the Giessbach Standseilbahn is that its cable are hydraulic, powered by water. The wagons on water powered lines contained tanks filled by water reservoirs at the top station and the weight of the decent pulled the lower car up, and then the water was emptied at the bottom to repeat the process. Fifteen other water-powered cable railways followed in Switzerland, until electricity came to the fore. The Giessbach Funicular itself was changed to electrical power in 1948, and today is operated by computer circuit, where the operator simple pushes one button on a console, where Victorian Age meets modern technology. The four minute ride rised 345 meters through trees to the base of the waterfall. Trails lead upward for view vistas of the lake and mountains of the Berner Oberland east of Interlaken. Or stop at the hotel restaurant or bar for a nostalgic look back to the age of the Victorian Grand Tour.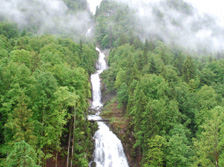 Guests of the Giessbach Hotel ride for free. Other users of the little railway, popular for hikers from lake boat cruisers to visit the Giessbach Waterfall, hike the lush mountain trails above the lake of Brienz, pay a small price for one way or round trip. The Giessbach Funicular runs from April through October beginning a 10 am and is timed to connect with all the scheduled boat trips on Lake Briens. The boat from Brienz dock and train station takes about 10 minutes. The Giessbach Funicular Railway is currently owned and operated by the Giessbach Grand Hotel foundation.

The BLS Railway which operates the lake Brienz Cruise boat also offers a round trip cruise and meal package from Interlaken to the Giessbach Grand Hotel, including the funicular and a 3-course lunch on the panoramic terrace for about 100CH per person, less with a half-fare card. With a Swiss Pass or Eurail Pass the lake cruise is free, just have yourself a lunch.
.
Swiss Pass Unlimited Travel