SWITZERLAND BY RAIL - REGIONS - LAKE GENEVA

NEW SKI SUPERPASS – GSTAAD "ALPES VAUDOUSES"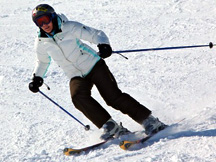 The ski resorts of the "Alpes Vaudoises" and Gstaad Mountain Rides offer a new product for the 2012-2013 ski season - the "SuperPass". Beginning November 3, 2012 until May 5 of 2013, the Alpes Vaudoises SuperPass gives skiers access 420 kilometers of ski slopes served by 116 lifts, covering three different regions and two languages. With the SuperPass the ski area of the Vaud Alps becomes one of the 5 biggest winter sports areas in Europe, from the slopes above Lake Geneva to the Bernese Oberland, the areas served by the GoldenPass scenic rail route from Montreux and Interlaken and the TPC (Transports Publics du Chablais) rail lines from Aigle. From Gstaad, ski lovers can descend into Saanenmöser and Zweisimmen, and on the Lake Geneva side of the mountains you can access Rougemont and Leysin, Villars, Les Diablerets and Glacier 3000. The pass allows you to go through the ticketing machines with the hands free ticketing system, letting you bypass the lines at ticket windows.
The SuperPass can be purchased to cover from 4 up to 15 days, with prices ranging from 238 CHF for 4 days to 590 CHF fro 15 Days. Children 10 to 16 are half price will teens get a modest discount. Kids up to 9 get a free ski pass with adults. The Gstaad Alpes Vaudoises Ski Superpass is available from Zweisimmen, Saanenmöser, Schönried, Saanen, St. Stephan, Gstaad, Lauenen, Gsteig, Rougemont, Château-d'Oex, La Lécherette, Les Mosses, Leysin, les Diablerets, Glacier 3000 and Villars-Gryon.
Compare hotel and travel deals in Lake Geneva on TripAdvisor
Swiss Pass Unlimited Travel