TICINO ATTRACTIONS
LOCARNO FILM FESTIVAL
67th Edition of Cinema in the Pizza Grande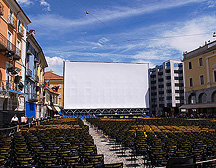 The film festival in the Ticino region of Italian speaking Switzerland (Festival Internazionale del Film di Locarno) kicks off its 67th year, running August 6-16. The international film celebration in the city of Locarno on the northern shore of Lake Maggiore is famous for its outdoor screenings in the central city Piazza Grande square with the giant screen stretched between the historic buildings in a festive public atmosphere where almost 8,000 film lovers can discover the new films. The Locarno Film Festival began in 1946 and for the latest season has a new artistic director, Carlo Chatrian.
The Locarno Film Festival, one of the longest running of its kind, and with its top prize of the Golden Leopard is known as a festival of discovery, focusing on the new auteurs and the cutting edge of cinema. Over its history the fest has discovered new trends and launched the career of a collection of world class directors and actors.
Each year, the festival honors a film figure with the Moet & Chandon Excellence Award and this year's career honoree is Italian actor Giancarlo Giannini with a screening of his debut on the big screen in "Don't Bother the Mosquito" a musical from 1967, the first of his long collaboration with director Lina Wertmuller which saw them work on nine films, including the most famous "Seven Beauties" for which Giannini was nominated for a Best Actor Oscar in 1977. French actress Juliette Binoche is also being honored with an excellence award. Giananni's ceremony on the Grand Piazza will be on 12th and Binoce the next day at the festival.
Find best travel and hotel deals in Ticino on TripAdvisor
Swiss Pass Unlimited Travel