TICINO ATTRACTIONS
MONTE SAN SALVATOR FUNICULAR - LUGANO
Views of Lake Lugano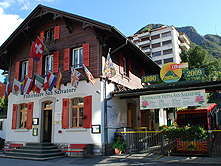 The Monte San Salvatore Funicular, which runs from the heart of Lugano in Italian Switzerland to the summit of Mount San Salvatore overlooking Lake Lugano was one of the first of its kind, built in 1890. Lugano is the largest city of the Ticino region, where the lake waters split their shorelines between Switzerland and Italy. Lugano encompasses a main city center with small village suburbs nestled between the hills along the lakeshore formed in a half crescent lined with older grand hotels from its status as a tourist destination since before the turn of the 20th Century. The mountain of San Salvatore lies to the southern edge of the city where the lake wraps around it, rising to the 912 meter high peak. The mountain top offers a 360 degree view of the city and lake on one side and waters stretching to the Italian village of Campione, known for its gambling casino on the other. The Monte San Salvatore funicular makes a 12 minute ride up through hillside suburbs to the top of the mountain, running from March to November.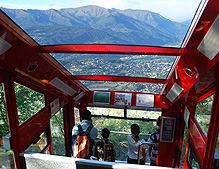 There is a restaurant at the summit with indoor and outdoor view terraces on the Italy facing side. From the top station it is a five minute up the walk to the summit for the views. Along the pathway below the summit radio towers is a small nature museum with exhibits on cultural history of the area and the study of lightning which tends to be attracted to the mountain top in storms on the lakes. At the observation level on Monte San Salvatore are series of period posters of other mountain trains and cable rides in Switzerland, from the mighty Jungfrau with the world's highest train station to Mt Pilatus near Lucerne, with the steepest funicular style cog train.
The Monte San Salvatore Funicular runs from 9 am to 5 pm or 6 pm in the spring and fall and in summer from mid-July to August the hours extend to 11 pm for night views of the sparking lights of Lugano. The funicular station of San Salvatore is a bit of a walk from the old town, near the Paradiso rail station but is also a stop on the tourist train route which runs along the lakeside. You can ride both ways, or ride up and walk down the winding path back to town if feeling energetic - taking about an hour and half. Hiking routes descend to the Italian side for more robust adventure. The train fare is 21 CHF for adults one way, 28 CHF for the round trip, children 6-16 are half price and under years 6 are free. The Monte San Salvatore Funicular is free with a Ticino Discovery Card.

Find best travel and hotel deals in Ticino on TripAdvisor
Swiss Pass Unlimited Travel