TICINO ATTRACTIONS
SANCTUARY OF MADONNA DEL SASSO
Pilgrimage Church of Locarno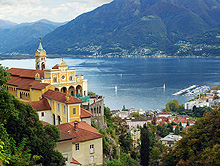 The pilgrimage sanctuary church of the Madonna Del Sasso (Madonna of the Rock) is situated on a wooded hillside at the edge of a deep ravine, looking down on the city of Locarno on Lake Maggiore in Ticino Switzerland. In 1480. Brother Bartholomeo da Ivrea, a Franciscan monk had a vision of the Virgin Mary on the rocky hilltop and established a sanctuary on the spot seven years later. In the centuries since, the church has been a site of Christian pilgrimage and is still an operating Capucin monastery, but only a few brothers remaining in residence.
The Franciscan church dating from the 16th Century has a beautiful Italianate facade with ceiling frescos in its arches. The Baroque interior features a lovely statue of the Virgin on the high altar and some impressive illustrative paintings, among them the "Bearing Christ to the Sepulcher" by local Ticino artist Antonio Ciseri. Votive offerings are evidence of the church's continuing importance to pilgrims. The view of the city and Lake Maggiore from the open arcade on the southeastern side of the church offers a spectacular view of the lake and town below.
In alcoves below the main church are statuary depictions of biblical events, terracotta sculptures of the disciples surround Jesus at the last supper table. There is also a small museum of religious icons and sacred art. The church and sanctuary are open everyday, the museum is only open from 2-5 in the afternoons. The Funicular Locarno-Madonna del Sasso, makes a 15 minute ride from the center of the city on the Via Ramogna main street, across from the rail station.
Find best travel and hotel deals in Ticino on TripAdvisor
Swiss Pass Unlimited Travel