ST. MORITZ – ENGADINE - JEWEL OF SWISS ALPS RESORTS
Family Summer Special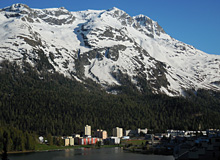 Tucked into a long valley of the Engadin in Switzerland, just across the peaks from Italy, St. Moritz was Switzerland's original winter sports resort, but celebrates summer with style and a unique cosmopolitan charm in beautiful storybook surroundings of high mountains and its shimmering lake. While on the trails of the Corvatsch mountains, hikers and mountain bikers enjoy some of the best mountain trails in the world, where you can explore the scenery with tours of varying degrees of physical challenge around the highest peak in the eastern alps. With the electric motor environmental friendly E-bike, you can even get a power assist with the peddling part. But since getting to the heights of the mountain vistas takes a cable car or funicular, the Engadine region offers a special deal.
Special Deal for Families
In St Moritz and the Engadine, visitors with children get a special deal. With the Family Summer Special, for at least a 2 night stay at a participating hotel two children up to the age of 12 share their parents room for free and the whole family get half-board meals included, and can travel on the mountain trains and cable trams for free, making for a significant savings. With the "Family Summer Special", there is something for everyone who wants to make the most of their stay in St. Moritz, but not at any price. Offer runs from May 30 to October 31.
Engadine Family Summer Special
Children Travel Free With Swiss Pass