SWISS PASS OFFER
Swiss Pass 25% Off on Selected Passes - This Offer is Seasonal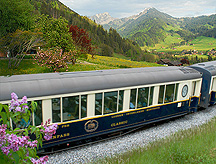 The Swiss Pass is the great way to discover the beauty of spectacular Switzerland by the extensive and convenient rail system and the Swiss Pass is being offered through Rail Europe for 25% Off for First Class with consecutive days of travel.
With the convenience of the Swiss Pass which allows unlimited travel on the both the national and local transportation systems as well as free entrance to hundreds of museums in this charming country, you'll have more time to travel and plenty of reasons to explore this spectacular alpine country. Where better to spend free time than the land of famous watch-making.

Here's what you get with the Swiss Pass:
This rail pass gives you unlimited travel on the Swiss Travel system. 5 days consecutive travel in first class and includes a Swiss Museum Pass with free access to over 400 museums.

Swiss Passes begin on the date they are validated and continue to be valid for the specified number of days. They are 85% refundable if not used, in case something should interrupt your travel plans. Rail passes must be validated within 6 months of purchase and in the case of this special offer.
Book the 5-day Swiss Pass for the price of a 4-day now