FREE FAMILY TRAVEL WITH SWISS PASS
Children Travel for Free with a Swiss Family Card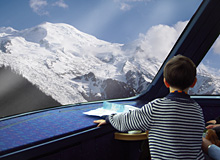 Traveling through Switzerland by train is the most convenient and easy way to experience the beauty of the stunning landscapes and charming alpine cities, and with a family, the most affordable as well. Adults who purchase a Swiss Travel Pass can take up to two children age 6 to 16 for free (under 6 are free in any case), when accompanied by a parent or guardian. Just request the Swiss Family Card when booking a Swiss Pass. The family card is free and offers other discounts at various destination activities as well as the free rail travel in Switzerland. Outside of Switzerland, with a Eurail Global or Select Pass, free travel for kids is now also available, from Rail Europe.

The advantage of a rail pass for exploring all of Switzerland is the extensive railway system used regularly by the Swiss to get around their mountainous country, saving time through amazing tunnels, or whizzing past the stunning lakes and high mountain peaks. A Swiss Travel Pass allows unlimited travel on the connected trains, intercity busses and local transportation systems as well and many lake cruise boats, discounts on thrill alps cable tramways, and free admission to museums. Rail Europe is the largest distributor of Eurail Products in North America. It is partly owned by the Swiss National Railway, and is an advertiser on this site.
Children Travel Free With Swiss Pass