ALPINE LAKES & SCENIC TRAINS TOUR
from Collette Vacations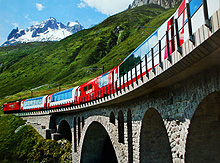 Switzerland by Rail invites the individual traveler to explore and discover scenic stunning Switzerland through its railways and byways, but for the traveler who prefers to have a trip fully arranged and all contingencies covered, an organized tour may be just what the doctor ordered. U.S based Collette Vacations is offering a 10 Day (12 meal) inclusive escorted tour of Switzerland and Northern Italy via Scenic Railways and Lakes.
Here's the Tour Description:

"Experience the enchanting Alpine cultures of Switzerland and Italy as you journey through spectacular mountain scenery and picturesque towns. Ride aboard three of the legendary Alpine railways; the Golden Pass Panoramic Train from Gstaad to Montreux; the Glacier Express from Zermatt to St. Moritz; and the Bernina Express, which takes you into Italy. Cruise two of the most scenic lakes in the world, Lake Zurich and Lake Como. Relax in some of Europe's most stunning and exclusive resort villages, including Zermatt, St Moritz and Lake Como, Italy. Explore Lucerne, the 'Swiss Paradise on the Lake.' Enjoy traditional regional cuisine such as Swiss cheese fondue and Italian delicacies."
Tour prices start at $2849 US, land only with airfare purchased separately. The ten days begins with the overnight flight from North America to Zurich with time to explore the old town and famous shopping, ending with a dinner cruise on the lake. From Zurich, on day 3, you take the train to Gstadd to catch the Golden Pass Route scenic train to Montreux on Lake Geneva, then on to Zermatt at the foot of the Matterhorn. You get a full day in Zermatt with an option to take the Gornergrat Express to the high vistas. On Day 5, board the Glacier Express for the journey to St Moritz. Day 6 takes you on the Bernina Express over Switzerland highest pass to Tirano, Italy with bus and a ferry ride across Lake Como. You have a full day to explore the shore of Como, where you can try to spot George Clooney (but don't count on it). On Day 7, take the train to Lucerne, with an afternoon arrival and a full day to explore the 800 years of history and culture from the Chapel Bridge to the lion monument.
Collette Vacations has been offering all inclusive tours since Jack Collette acquired a jitney bus in 1918 to carry travelers on a three week tour from Boston to Florida. The tour company was purchased by a World War II veteran Dan Sullivan in 1962 and since then the Rhode Island based company has grown to a family owned worldwide travel operator.
Collette Vacation Lakes and Trains Tour