Switzerland Grand Tour by Train Hotel Package
from Rail Europe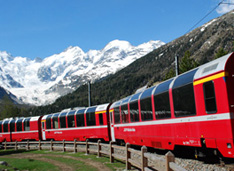 The Grand Tour of Europe arose from the travel of the Romantic poets of English literature visiting the exotic sights of Switzerland and Old Europe, who wrote of the beautiful lakes, glaciers and majestic mountain scenery, flowed by the wealthy tourists of the expanding industrial age, following in their footsteps as grand hotels of opulent service arose to accommodate them. Now, the Grand Tour of Switzerland can be experienced by the ease and convenience of a Swiss Travel Rail Pass and hotel package. No need for a travel agent of study of maps. Enjoy the beauty and hospitality of Switzerland with the Grand Train Tour of Switzerland from Rail Europe.
For today's cost conscious traveler, this package includes 3-star hotels, which provide a level of comfort expected from Swiss hotel properties while keeping the expense to a affordable level. This tour includes the most poular scenic rail routes: The GoldenPass, GLacier Express, Bernina Express, Wilhelm TellExpress and the Jungfraujoch - Top of Europe. Four-star hotels are also available for an upgraded experience, with a special quote.
The Grand Train Tour includes: a Swiss Transfer Ticket Combi with Swiss Half-Fare Card with 8 train transfers in first or second class, 7 nights of accommodation in 3-star hotels (double occupancy and including breakfast), excursion to Jungfraujoch - Top of Europe, and 50% off any additional tickets for optional excursions to travel by train, boat, post buses and aerial cableways. Required seat reservations on some branded scenic trains are separate, with an additional reservation cost.
Current prices for the Grand Train Tour of Switzerland Hotel Package (per person, double occupancy):
Adult 1st Class from $1870
Adult 2nd Class from $1683
Tour Schedule
Day 1: Train transfer from a Swiss airport or border station to Zurich (overnight in Zurich).
Day 2: Transfer to Lucerne, board the GoldenPass Line to Interlaken (overnight in Interlaken).
Day 3: Excursion to the Jungfraujoch, continue on to the GoldenPass Line to Montreux (overnight in Montreux).
Day 4: Train transfer to Zermatt (overnight in Zermatt).
Day 5: Travel on the Glacier Express to St. Moritz (overnight in St Moritz).
Day 6: Travel on the Bernina Express (train and bus) via Tirano to Lugano (overnight in Lugano).
Day 7: Travel board the Wilhelm Tell Express through the Gotthard range and ending with a boat ride on Lake Lucerne (overnight in Lucerne).
Day 8: Transfer from Lucerne to a Swiss airport or border station.
Grand Tour of Switzerland Package