SWITZERLAND BY RAIL - REGIONS - BERN

BERN BEAR PARK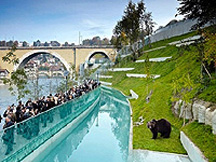 The name of the city of Bern (Berne) comes from the German word for bears, when according to the legend, in 1191, the Duke Berchtold the Fifth, went hunting in the woods nearby his newly acquired lands and proclaimed he would name his fortified town after the first animal he killed. So, rather than being named for a fox or a squirrel, a bear was the unlucky recipient of the honor. Bears have mostly vanished from the natural wild in Switzerland, so no longer encountered by hunters. Now, the furry creatures are seen in the Bern Bear Pit, newly updated in a modern enclosure along the Aare River, with a tunnel from the old pit. The story of the duke may or may not be true.
The tradition of keeping live bears in the moat surrounding the old city dates back to the Battle of Novara in 1513 when the Swiss held back a French invasion by Louis VII. As a victory trophy, the Bernese soldiers brought back a live bear which they held the city moat near the old city's central Bear Square (Bärenplatz). The bear began to appear on the heraldic symbols of the city as the citizens took their mascot to heart. The Bern Bear Pit was rebuilt in four different locations of the years, but in 1857, found its present spot near the Nydeggbrücke.
The new Bern Bear Park offers the current residents, momma and papa Björk and Finn, and their cubs Berna and Ursina a natural open space and recreational opportunities than the old pit with a swimming pool and tunnel to the bear cave. Infared cameras and web cams allow visitors to see what the bears are up to inside. An audio guide in multiple languages and a mobile phone app guide are available. There is a tourist office and restaurant at the Bear Park visitor's center at the old Bärengraben pit. The park is open every day of the year, and is free.
Find best travel and hotel deals in Bern on TripAdvisor
Unlimited Travel in Switzerland with Swiss Pass