SWITZERLAND BY RAIL - REGIONS - BERN

FOXTRAIL - KIDS WALKING TOUR - BERN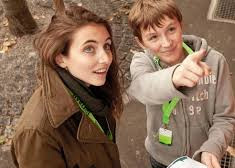 Foxtrail is a treasure hunt for kids through the Swiss capital city of Bern, that is geared toward making you think out of the box. The fox does his best to keep shaking you from his trail as you follow his tracks through the city. The Foxtrail is followed in teams for a grouop experience, with small group starting at different times on a different trail. Groups can be just 2 or 200; and "kids" can be 8 or 80 years old, the Foxtrail is meant for the family fun and is exciting for everyone.The trail treasure hunt of sites takes from 2.5 to 4.5 hours, depending on the trail you choose.

The path to follow will be revealed as you complete tasks at each of the stations along the way. If you're having trouble deciphering one of the clues, just call the fox' personal hotline, and he'll help you along from his hiding spot. The hotline number is included with your booking confirmation letter.

At the end of the chase, youhead home a winner. Of course, it's even nicer to relive your experience during a victory reception (with Foxtrail Plus) or other additional options, and to relax together following your trial – or trail, that is!

If your group has fewer than 18 people, you can book your Foxtrail trip online. Transportation to the starting point or from the finish point is not included.

| | |
| --- | --- |
| Prices: | 2 - 18 people |
| | Children up to age 16 Adults Family ticket |
| Short trail | CHF 16.00 CHF 31.00 CHF 79.00 |
| Long trail | CHF 22.00 CHF 41.00 CHF 99.00 |
| Refreshments (Foxtrail Plus) | CHF 10.00 CHF 10.00 |
| | |
| | Groups of 19 or more people |
| Short trail 2.5h | CHF 21.00 CHF 40.00 |
| Standard trail 4.5h | CHF 27.00 CHF 50.00 |
| Refreshments (Foxtrail Plus) | CHF 11.50 CHF 11.50 |
| | |
Find best travel and hotel deals in Bern on TripAdvisor
Unlimited Travel in Switzerland with Swiss Pass