SWITZERLAND BY RAIL - REGIONS - BERN

KORNHAUSKELLER RESTAURANT & GALLERY BAR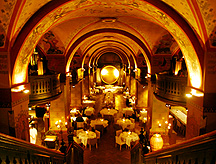 In middle-ages the vaulted cellar was common for the storage of goods. The underground space kept cooler in summer and even temperature in winter. The Granary of Bern was one such space which held goods for the entire city, holding the tithes of the citizens to the overloads. Today, the stunning vaulted space of the Kornhauskeller is a restaurant and bar, one of the most popular of the city. Entered down a grand stairway, the arched underground room extends into the distance, with intimately lit gallery alcoves of the bar along the upper level, overlooking the dining floor below. Twelve pillars supporting the arches of the ceiling vaults are painted with folk images of women in traditional Bernese costumes while the spaces of the vaults are decorated with mythological figures of mermaids, dragons, ringed with musicians in Renaissance costume.
The Kornhaus or "Granary" was built in 1711. The upper three floors stored the grain while the basement held barrels of wine. The original purpose of the building only lasted for about a hundred years, with the cellar turned into a pub as early as the start of the 1800's and by 1893, was used for city festivals. A hundred years later, the Kornhaus was turned into a city cultural center with the Kornhaus Library, the City Theater and two restaurants, the Kornhauskeller in the old wine cellars and the more casual Kornhauscafé on the ground floor.
The Kornhauskeller menu is a mix of Mediterranean, Italian and traditional local Bernese cuisine, with an extensive wine cave. The Granary Gallery Bar aperitifs, cocktails, and 80 single malt whiskeys. The Kornhauskeller is open for lunch from 11:45 am to 2:30 pm and for dinner evenings 6 pm to 12:30 am, Sundays until 11:30 pm. In winter lunch hours are extended to escape the cold in the warm cellar. Reservations are not necessary, but a very good idea. From the main train station take trams 6-7-8 or 9 to the Zytglogge stop.
Find best travel and hotel deals in Bern on TripAdvisor
Unlimited Travel in Switzerland with Swiss Pass