SWITZERLAND BY RAIL - REGIONS - BERN

EINSTEIN HOUSE IN BERN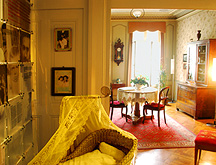 1905 was a very good year for Albert Einstein. He later called it his miracle year, "Annus Mirabilis", when he published 5 of his most important papers, including his breakthrough on the Theory of Relativity. It was also a good time in his personal life. Einstein was 26 and had recently married his sweetheart Mileva. He was working at the Bern patent office and moved into a two room apartment on the main historic Kramgasse street, just a short walk from the town's Zytglogge medieval clock. He and Mileva lived in the upstairs apartment at Number 49 from 1903 to 1905. Heading to work, he would pass the sweet shops with chocolate bears just outside his door. While riding on the city tram with the clock receding in the distance, contemplating time, travel and space, came his breakthrough. Einstein left Bern in 1909 to teach in Zurich, but recalled his years in the city of the bear as some of the happiest of his life.

The apartment where Einstein lived with Mileva and their newborn baby son, Hans Albert is now referred to as the Einstein House and is open to the public as a living museum. Einstein was born in Ulm, Germany, moved with his family to Munich, then arrived in Bern in 1902 after receiving his teaching degree. The apartment is located between the medieval town clock and Bern's Bear Pit across the river. The apartment has been recreated much as it was when Einstein lived there, of a basic living room, anteroom and foyer. The furnishings are not original, but present a realistic feeling of what his life there would have been like as well as some actual personal family artifacts. The Einstein Apartment is about 15 minutes from the train station, by walking or tram to the Zytglogge stop. For more Einstein history, the city's History Museum has a permanent Einstein Exhibit.
Find best travel and hotel deals in Bern on TripAdvisor
Swiss Pass Unlimited Travel