SWITZERLAND BY RAIL - REGIONS - FRIBOURG

GRUYÈRES CASTLE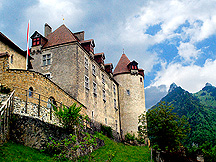 The Castle of Gruyeres stands the end of the medieval village of the same name, once completely surrounded by its walls. The name of Gruyère comes from the French word for Crane (grue), the bird featured on the heraldic coat of arms of the house of the counts of the house of Savoy. From the 13th through the 16th Century the castle developed over time from a purely defensive fortress to a noble residence until the last of the Gruyeres counts I the 18th Century fell into heavy debt and the family's inherited lands were divided among his creditors between Fribourg and the Bernese. The castel was taken over by the Bailiffs of Fribourg. The Chateau de Gruyères became one of the most famous in Switzerland though paintings of romantic landscapes of the 19th Century. From the eastern side, the walls and turrets crowning a hill in the valley makes it one of the more dramatic of castles.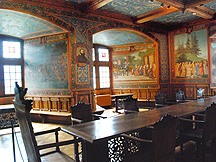 A visit to the Gruyeres Castle starts with multimedia presentation of the history of the town and castle told by a jester character from the castle legends, named Chalamala. The restoration of the castle is mostly from the 1800s during the romantic revival. The ornate and beautifully rich living quarters are from the Bovy and Balland families who made the castle a summer residence. The Knights Hall with its carved wood and the Corot's Parlor with walls painted with images of medieval legends and crane motif ceiling panels are some of the most impressive rooms, as well as the massive fireplace so large it has a doorway inside, through to the kitchens. In the count's bedroom you'll find the robe of Charles the Bold, the Burgundian. The outer wall surrounds a formal garden, viewed out the windows. The castle battlements can be walked and a path follows the walls along the hillside. A medieval days event celebrating the Festival of St John is held every June in Gruyeres with craft demonstrations, medieval weaponry re-enactors and a falconry show.

See Favorite Switzerland Castles.
The Chateau Gruyères is open every day from 9am to 5:30pm April through October and 10am to 4:15 November to March. Admission for adults is 9.50 Swiss francs, 8 francs for Seniors/Students 3 for children 6 to 16. The Gruyeres Castle is free with a Swiss Pass and is included with the Chocolate Train Tour from Montreux, (also including the Gruyere Cheese Factory Tour and Callier Chocolate Factory Tour in Broc.
Tickets Chocolate Train Tour - RailEurope

Find the best travel and hotel deals in Fribourg on TripAdvisor
Unlimited Travel in Switzerland with Swiss Pass