SWITZERLAND BY RAIL - REGIONS - FRIBOURG

HR GIGER MUSEUM & BAR - GRUYERES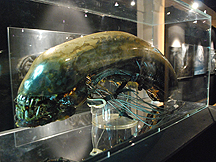 HR Giger, the Swiss fantasy artist best known as the inspiration for the macabre designs of the "Alien" movies and now Ridley Scott's new "Promethius" was invited in 1990 to present his work at the fantasy art gallery located with the walls of castle of Gruyères, the popular medieval town in the Fribourg hills. The artist was so charmed by the quaint town, he decided to open a museum of his work and a café designed to emulate his particular other worldly vision. He acquired an old medieval house just outside the gates of the castle, the Chateau St Germain, and filled it with his unique art, easily recognized by the metallic erotica stature for the creature from the movie "Species" wathing over the front entrance.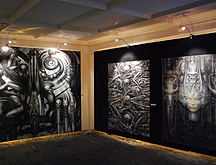 The HR Giger Museum presents the artist's grotesque visions of surrealist bio-mechanical humanoids, where flesh and machine join in psycho-sexual obsession, and fantastic cityscapes. Among the museum's exhibits are some operating props and models for the "Alien" movie, and a rather curious "boardroom" like office space that would be fitting in the belly of the Nostromo. But the artistic oeuvre of Giger (pronounced geeger) goes far beyond this familiar icon. A variety of sculptures, paintings, furniture, and interior design fill three floors with shocking and fascinating imagery around each corner.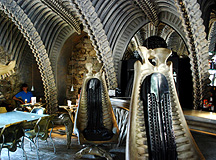 HR Giger Museum Bar - Just opposite the entrance of the museum, a step into the bar-cafe is like entering the belly of an alien beast. The ribbed spinal cord arched ceilings and alien space craft "Harkonnen" bar seats inspired by 'Dune" suggest an entry into an alternate universe, but where drinks and a meal can be ingested within the innards of some fantastical alien creature. Definately worth a stop to escape the medieval world outside.
The HR Giger Museum in Gruyeres is open every day from 10am to 6pm April to October. 1pm to 5 pm Tuesday to Friday from November to March. The HR Giger Bar is open from 10am to 8:30pm daily. Both are closed on Mondays in winter. Admission for adults is 12.50 CHF, Students and Seniors 8.50 CHF and children 5.50 CHF. A combined ticket for the HR Giger Museum and the Gruyere Castle is available for 14 CHF. There is no age restriction for the museum, but parents should be aware of the sexual themes on display.
Giger Museum
Chocolate Train Tour - RailEurope
Find the best travel and hotel deals in Fribourg on TripAdvisor
Swiss Pass Unlimited Travel