LUCERNE ATTRACTIONS

BOURBAKI PANORAMA
Original Tourist War Exhibit Since 1889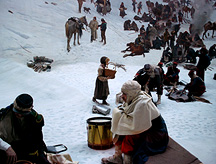 The Bourbaki Panorama has been a tourist attraction in the city since 1889. Essentially a mural diorama or figures with a painting background in surrounding panorama, it depects the brutality of the Franco-Prussian War, fought from July1870 to February 1871, ending in the defeat for the French Army in the Jura mountains of the Swiss-French border lands, and meant the rise of the German Empire of Kaiser Wilhelm I, and the end of the French Empire under Napoleon III. Almost 90,000 French soldiers where marched through the snow into Switzerland and tended by the Red Cross. They were known as the Bourbaki Army.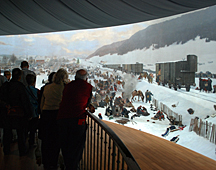 Swiss artist Edouard Castres had served as a volunteer with the Red Cross during the war, and documented the hardships with his sketch pad. Benjamin Henneberg commissioned Castres to create a giant panoramic painting of the internment to display in Geneva. In 1885, a panorama exhibit was planned for Lucerne and the 360 degree panoramic diorama was relocated to the city in a rotunda exhibit hall, next to the famed weary lion sculpture and the Glacier Garden. The building rotated in 1925, but a new modern exhibit opened in the year 2,000. The painting reaches over two levels in the upstairs rotunda, with 21 war costumed figures added to terrain leading up to the 10 meter high and 110 meter circular painting, making for a 3D effect, with added sound effects. Below the panorama exhibit hall is a restaurant and bar, a gift shop and entrance to a multi-plex movie theater next door. Admission is 12 Swiss francs for adults and 10 francs for students. Children under 6 are free. A family ticket is available and a Pass for visiting both the Bourbaki Panorama and the nearby Glacier Garden is available. The exhibit is free with a Swiss Pass.
Find best travel and hotel deals in Lucerne on TripAdvisor
Unlimited Travel in Switzerland - Swiss Pass