LUCERNE ATTRACTIONS
GLACIER GARDEN OF LUCERNE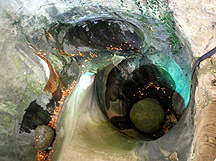 On a crisp morning of November in 1872 Josef Wilhelm Amrein-Troller was watching the digging of a wine cellar for his mansion in a suburb just beyond the city walls of Lucerne, when his workmen uncovered some very strange rock formations. Smooth round boulders and deep potholes in the solid stone of the hillside. What he had uncovered was the remaining record of the glacial Ice Age in Switzerland. A year later, the Swiss entrepreneur opened his "Glacier Garden" (Gletschergarten) to the public. They had already been coming to the Bourbaki Panorama just down the hill, and would now marvel as his own tourist attraction. 130 years later, the Amrein-Troller house survives with its Glacier Museum.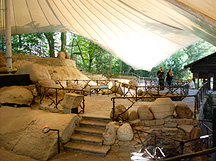 A path underneath a canvas canopy leads through the exposed geologic formations of potholes created by the force of water unable to escape under the weight of slow-moving glaciers. Round granite boulders, one as heavy as five tons, strewn about the hillside, were carried by the moving ice from high in the mountains to where they now rest. The house itself is a beautiful example of a 19th Century Swiss house of the the rising Bourgois. It remains much as when the Amrein-Troller family had lived inside, with Biedermeier antique furniture and Baroque bedroom designs. Much of the lower portion of the house is given to the Glacier Museum, with interactive exhibits explaining the formation and action of glaciers. In the GeoWorld Luzern exhibit, the evolution of ice age man and geologic history of Lucerne is presented with large scale oil paintings depicting Lucerne during the Ice Age. On the lower level below the house, the Hall of Mirrors of the Alhambra, created for the Swiss National Exhibition in Geneva in 1899 creates optical illusions, framed in ornate gilt gold.
The Glacier Garden is located on Denkmalstrasse, near the weary lion sculpture symbol of Lucerne. The Gletschergarten Luzern is open daily from 9 to 6 from April 1 through October 31, and 10 to 5, November 1 through March 31. Admission for adults is 12 Swiss francs and 7 Swiss francs for children. You can get a Lion Pass that includes the Glacier Garden and Bourbaki. With a Swiss Pass, the museums are free.
Find best travel and hotel deals in Lucerne on TripAdvisor
Swiss Pass Unlimited Travel