LUCERNE ATTRACTIONS
SWISS MUSEUM OF TRANSPORT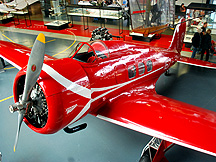 The Swiss Transport Museum on the shore of Lake Lucerne is one of the most visited in Switzerland, especially for families, with over a million visitors a year. It is not hard to see why, with tons to see and do. Explore the history of steam and electric train locomotives which created Switzerland's rail system – discover the secrets behind the machines which dug tunnels through the mighty Alps - follow the history of flight from balloons to gliders to mountain rescue helicopters and the passenger jets of airlines. The museum's over 3,000 exhibits are laid out in 20,000 meters of exhibit halls. Enter through the wall of car wheels to ticket counters, a restaurant, and Imax Theater.
The Railway Hall is filled with massive engines of steam to electric - the "Crocodile" mountain freight engine, cutaways to see the workings of steam boilers, the first electric street cars, to the unique cog wheel drives which carry up the steep inclines of the Alps. The flight hall provides three levels of airplanes from early flight to outer space, vintage biplanes, to modern jets. The Cosmorama, a form of hand operated merry go round demonstrates gravity and weightlessness. The Marine Exhibit displays shipping of Switzerland's waterway, with a cutaway section of a paddlewheel steamer, a full scale schooner and a ferry that can be climbed upon. The Auto Hall offers historic vehicles on display in a Car Theater, where the auidience can pick an chose cars to examine, rather like a game show vending machine, as well as more familiar car automobile history and technology exhibits.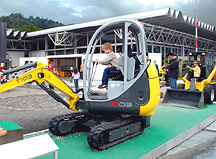 Outside in the courtyard area, called the Arena is perhaps the biggest draw for kids, where they can operate excavators and construction equipment to play at building roads, fly on a gravity defying bungee trampoline, drive pedal cars around a road track, and control model power boats or test ride mountain bikes. Indoors, in the Media Factory young future TV personalities can appear in their own broadcasts with special effects backgrounds.
The Swiss Museum of Transport is right on the lake and one of the stops of the cruise boats. From the main train station take the S3 train or the Voralpexpress to the Verkehrshaus station, or city bus 6, 8, or 24. Admission prices 27 CHF for adults, children 12 CHF (under 6 free) with a family pass for 56 CHF (50% discount with a Swiss Pass). The Imax Theater is a separate admission with a combined ticket available. Come by train and return by boat (or vice versa) with a Lucerne Transportation Card or a Swiss Pass. The walk along the lakeshore from the Lucerne Bridge is about a half-hour.
Find best travel and hotel deals in Lucerne on TripAdvisor
Swiss Pass Unlimited Travel