SWITZERLAND BY RAIL - REGIONS - ZURICH
BAHNHOFSTRASSE – ZURICH'S SHOPPING STREET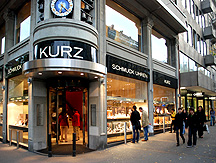 There are any number of bahnhofstrasses in Europe, basically meaning the railway station street, but Zurich's avenue is arguably the most famous. The main downtown street is one of the world's most exclusive shopping boulevards and most expensive stretches of real estate. It runs basically about a mile from the main railway station to near the shore of Lake Zurich. In 1865, when the first railway station was built in Zurich, what was once where part of the city's fortification walls stood, a soggy swamp was filled in and transformed into the city's commercial heart, lined with buildings of the Grand Bel Age. This shopping mile has added to Zurich's reputation of luxury brands and exclusity. Just step outside the Railway Station and stroll among the world famous brand design stores of Gucci, Bvlgaro, Cartier, Dior, Chanel, jewelry stores and Swiss watches, Tiffany, Meister Juwelier, Chronometrie Beyer, Patek Phillipe, and Türler Uhren, even a department store or two, Jelmoli and Greider.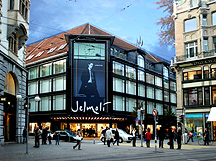 Stroll among the Armani clad Swiss bankers of Credit Suiss and UBS, whose offices are along the street, and mix with the elegantly coiffed ladies shopping for designer clothing, but also denim-clad teens sporting the latest trends. Stop for a sweet treat or coffee in the Confiserie Sprüngli, traditional sweet shop café in Swiss style at the Paradeplatz. From the Bahnhofstrasse, you can cross the river to the old town at the Rennweg, guided by the spires of the Fraumuster and Grossmuster, or head to the lake shore. Two of Zurich's most luxurious hotels are along the Bahnhofstrass, the Savoy Baur en Ville, and at the far end near the lake is the deluxe Bar au Lac Hotel.
Half-way down the Bahnhofstrasse from the train station is the Augustinergasse, where the Augustine monastery is long vanished and medieval artisans once plied their trade. Here you'll find carved wooden bay windows and several, more tourist oriented shops and the traditional Swiss keller restaurant the Zeughauskeller. The Bahnhofstrasse of Zurich is served by several city tram lines and along its route you'll find a number of cafes and restaurants with outdoor seating for watching the parade of shoppers clutching designer label bags.
Compare hotel and travel deals in Zurich on TripAdvisor
Unlimited Travel in Switzerland with Swiss Pass