SWITZERLAND BY RAIL - REGIONS - ZURICH
ZURICH WEST – URBAN TRENDY DISTRICT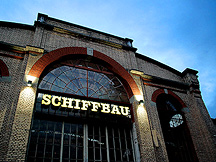 Like many urban cities in the new millennium, Zurich is recovering and revitalizing its old run-down areas. Formerly called the Industry Quartier, this district has been dubbed Zurich West, where machines used to whir and grind, is now the city's trendy zone, near the Hardbrüke sbahn rail station between the Limmat River and railroad tracks, loading up with apartments, offices and loft space, as well as the becoming a center of the city's nightlife, with clubs, pubs, restaurants, and modern trendy retail shopping.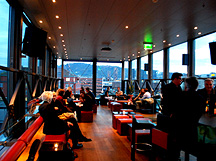 The flagship symbol of the Zurich West area is the Schiffbau, at one time a ship building warehouse, now an urban mall, with one of Zurich's top restaurants, La Salle, a glass cube of a rooftop lounge, the Niettum Bar, and the Jazz Club, Mounds, as well as a Comedy Show. But there are a bunch of clubs and venues in Zurich West for nighttime entertainment. Across from the Schiffbaustrasse from the ship building is the Labor Bar, a lounge which attracts Zurich's VIP crowd, and on Sunday nights goes gay. Club Q, calles itself the "queen of the night", with numerous live concerts make it easy to party with fervor and style. The Hard One bar, above the Abatton Cinema multiplex movie theater, is an elegant up-space venue with a cool Champagne bar and lounge with dancing in futuristic primary colors, a spot to check out some of Europe's top DJs.
While the partying can go until the wee hours in Zurich West, the daytime offers some shopping and art venues of Zurich's rising designers. The Markthalle, Zurich's first indoor food court. The Viadukt, rows of trendy shops and a restaurant tucked into the stone arches of the railroad viaduct. Spheres is a relaxing place near the tram stop for breakfast or lunch, with a collection of books and a live music stage for the evenings. Also explore the history of Zurich's 19th Century industrial past with an area walking tour.
Compare hotel and travel deals in Zurich on TripAdvisor
Swiss Pass Unlimited Travel