SWITZERLAND BY RAIL - REGIONS - ZURICH
SWISS NATIONAL HISTORY MUSEUM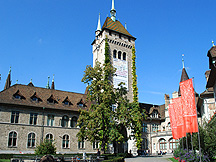 Designed by city architect Gustav Gull, the Swiss National Museum in Zurich (Landesmuseum) it is an impressive structure of revival medieval towers and a canon guarded courtyard with its own green park. The museum building is located directly next to the Hauptbahnhof train station, accessed by a tunnel from the platforms. The museum was built in the form of a castle in 1898, during era of historic revival of the 19th Century. Each of the Swiss Cantons had their own history collections but the national museum was established in Zurich after a successful art exhibit in 1883. The museum is actually on an island formed by the Limmat and Sihl rivers and is one of the first impressive sights of the Old City arriving by train in Zurich.
The History of Switzerland is the main exhibit, following the development of the Swiss region from prehistory through Medieval ages, up to the 20th Century, Separated into four themes of Swiss migration and settlement, religious and intellectual history, political and economic development. There's even a woolly Mammoth in the "dawn of man" section. The Collection Gallery features crafts and products of the Swiss culture.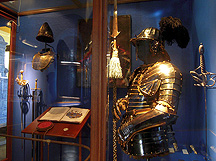 Among the museum's more impressive exhibits are eleven wood paneled period rooms reconstructed from their original locations at the former Fraumünster Abbey and Oetenbach Monastery, a royal stateroom from the Palazzo Pestalozzi in Castelvetro, the parlor from the Rosenburg Haus in Stans, and livingroom from Schloss Wiggen, as well as a monastery apothecary. The museum holds Switzerland's largest collection of costumes and traditional clothing, seen within rooms of posed mannequins wearing rich garments from the 18th through the 21st century. The exhibition of Swiss Furniture and Interiors demonstrates that people's needs appear to have remained the same from the Middle-Ages to present day, with the furnishings and space adapted to technology.
The Zurich National History Museum is open Tuesday to Sunday from 10am to 5pm, and stays open to 7pm on Thursdays. Entrance admission is 10 CHF for adults, 8 CHF for seniors and students, and free for children under 16. Entrance is free with a Swiss Museum Pass and Swiss Pass.

Zurich Zoo
Turler Clock
Zurich - Summer 2012
Compare hotel and travel deals in Zurich on TripAdvisor
Swiss Pass Unlimited Travel